Who is responsible for paying escrow fees to Escrow.com?
The Buyers and Sellers determine which party is responsible for the escrow fees.
The Buyers and Sellers can agree to one of three payment options below:
Buyer pays 100%
Seller pays 100%
Buyer and Seller each pays 50%
When a Buyer pays all or half the Escrow Fee, then the fee will be added to the upfront or initial payment from the Buyer. When a Seller pays all or half the Escrow Fee, then this fee amount will be deducted from the disbursement amount due the Seller.
Cancellation or Rejection of Merchandise or Service
If the transaction is (1) canceled after the funds have been approved by Escrow.com, or (2) the merchandise or service is rejected by the Buyer, the Buyer is responsible for 100% of the Escrow Fee and return shipping fees, even if the transaction originated as the Seller paying 100% or 50% of the Escrow Fee. This is because Escrow.com deducts the Escrow Fee when returning the original payment to the Buyer.
Selecting Escrow Fee Payment Set-up
The party initiating the transaction has the opportunity to select who pays the escrow fees and the payment option, and the other party can choose to agree to this arrangement or elect to modify the Escrow Fee payment.
The Escrow Fee Payment Option will be displayed on the same page when you agree on the price and delivery method. The following sections show how to access the Escrow Fee Payment setup:
General or Motor Vehicle Transactions:
On the Start Transaction page, select + Show advanced options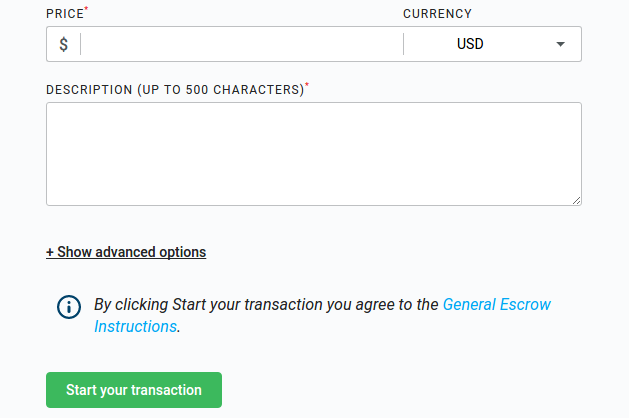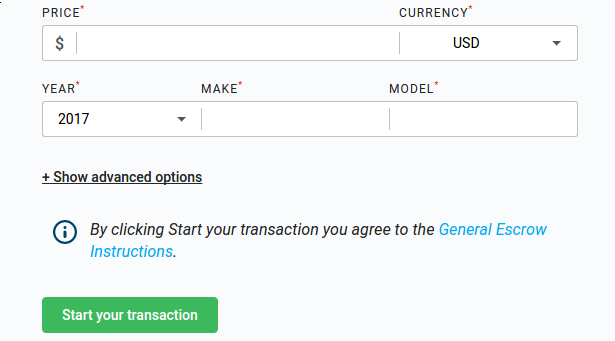 In the advanced aptions, you can select who pays the escrow fees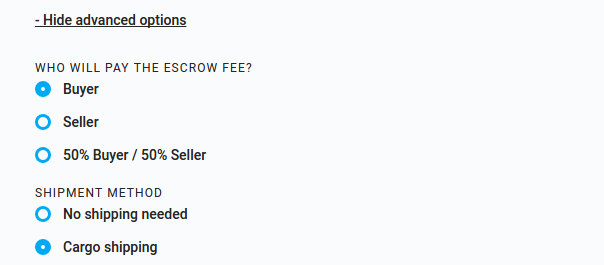 Domain Name or Milestone Transactions:
You can select who is paying the escrow fee in the first step: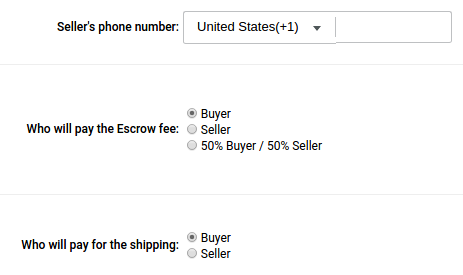 If you have additional questions or concerns, please contact our customer support department via email at support@escrow.com or chat support when they are online.