Never buy or sell online without using Escrow.com
With Escrow.com you can buy and sell anything safely without the risk of chargebacks. Truly secure payments.
Please enter a numeric value
Buy or sell domains and websites securely
Buyer and seller agree on terms

Buyer pays Escrow.com

Seller transfers the domain name

Buyer approves the domain name

Escrow.com pays the seller
Buy or sell your vehicle safely and confidently
Buyer and seller agree on terms

Buyer pays Escrow.com

Seller ships the vehicle

Buyer inspects & approves vehicle

Escrow.com pays the seller
Complete protection for merchandise transactions
Buyer and seller agree on terms

Buyer pays Escrow.com

Seller ships the merchandise

Buyer inspects & approves goods

Escrow.com pays the seller
Pay for services as you go with milestone payments
Buyer and seller agree on schedule

Buyer pays Escrow.com

Seller provides the service

Buyer approves the milestone

Escrow.com pays the seller
$6,100,000,000+

USD Processed

2,200,000+

Customers Trust Escrow

BBB Torch Awards

BBB Torch Awards

Winner of 2017 Award for Ethics

BBB Accredited

DBO

US Commercial
Over $5 billion of transactions protected with Escrow.com
Escrow.com is the world's most secure payment method from a counterparty risk perspective - safeguarding both buyer and seller, all funds transacted using escrow are kept in trust.
Buyer and Seller agree to terms

Buyer submits payment to Escrow

Seller delivers goods or service to buyer

Buyer approves goods or services

Escrow.com releases payment to seller
Safely buy and sell products and services from $100 to $10 million or more
Get a free copy of our latest domain market report
Alternative Investing: A Comparison Between Additional Instruments and Web Domains
The recommended payment system by top eCommerce companies
Escrow.com is the recommended payment system of top eCommerce companies including Uniregistry, GoDaddy, ClassicCars.com and Shopify Exchange. Talk to us about signing up today.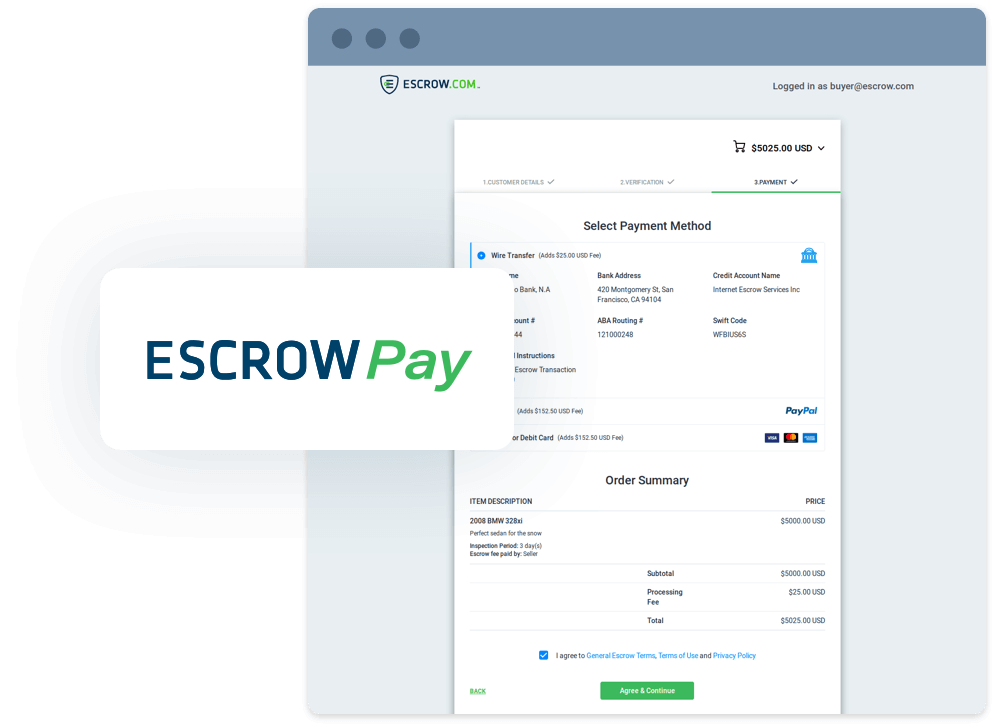 Escrow Pay: Secure payments in one line of code.
Escrow Pay is the simplest way to add escrow payments to your website, mobile app, online store, classified site or marketplace.
Learn More
Introducing Escrow Offer
Escrow Offer allows buyers and sellers to negotiate a price for domain names, cars, boats, aircraft, fine art or any high-value item on any website or mobile app through a Make Offer button or API call - protected by the security of escrow payments by Escrow.com.
Learn More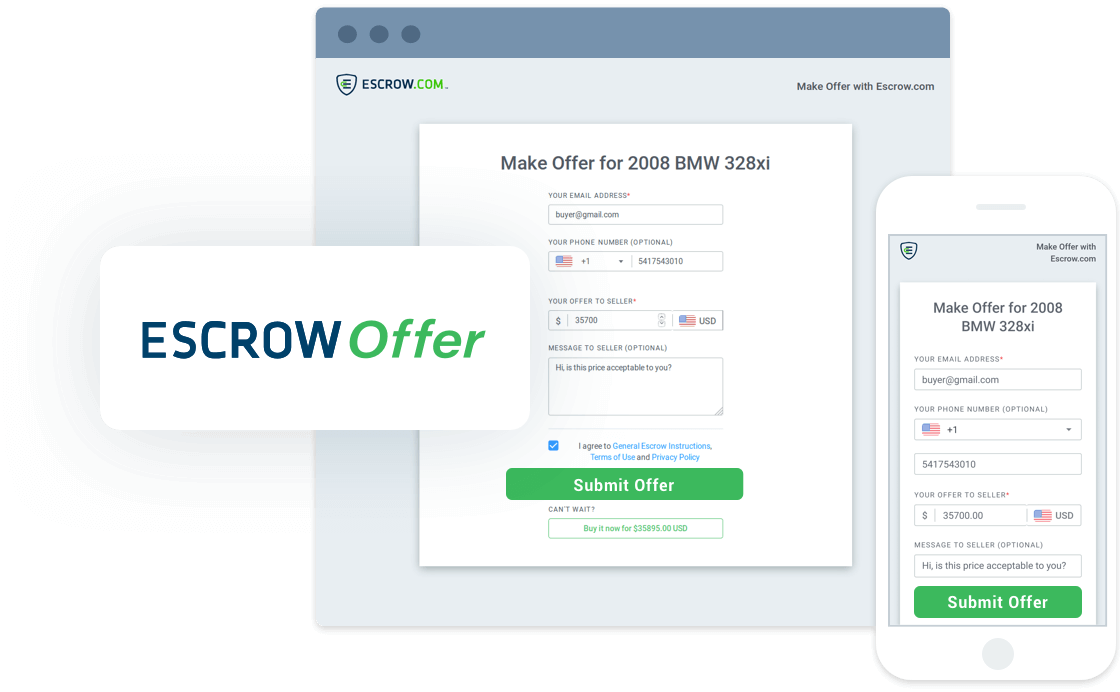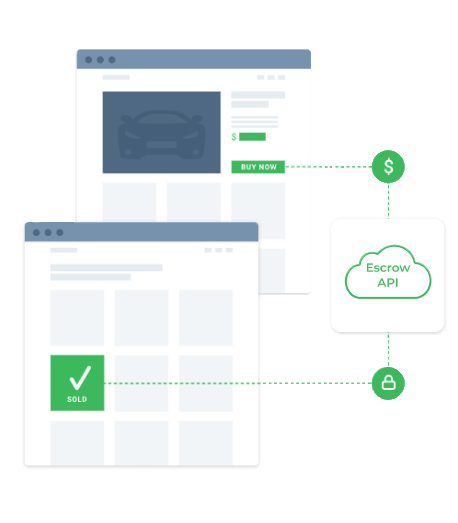 Escrow API
Payments for your website, marketplace, classified site, shopping cart or mobile app with no chargebacks, ever.
Built for developers, by developers

Any business can integrate the safety and security of escrow payments to their platform as simply as common payment methods such as Stripe.

Protecting both buyers and sellers

Using escrow, buyers get to inspect the goods or services before accepting them, protecting the buyer. Likewise, sellers are protected from counterparty risk by no chargeback, ever.
Integrate Now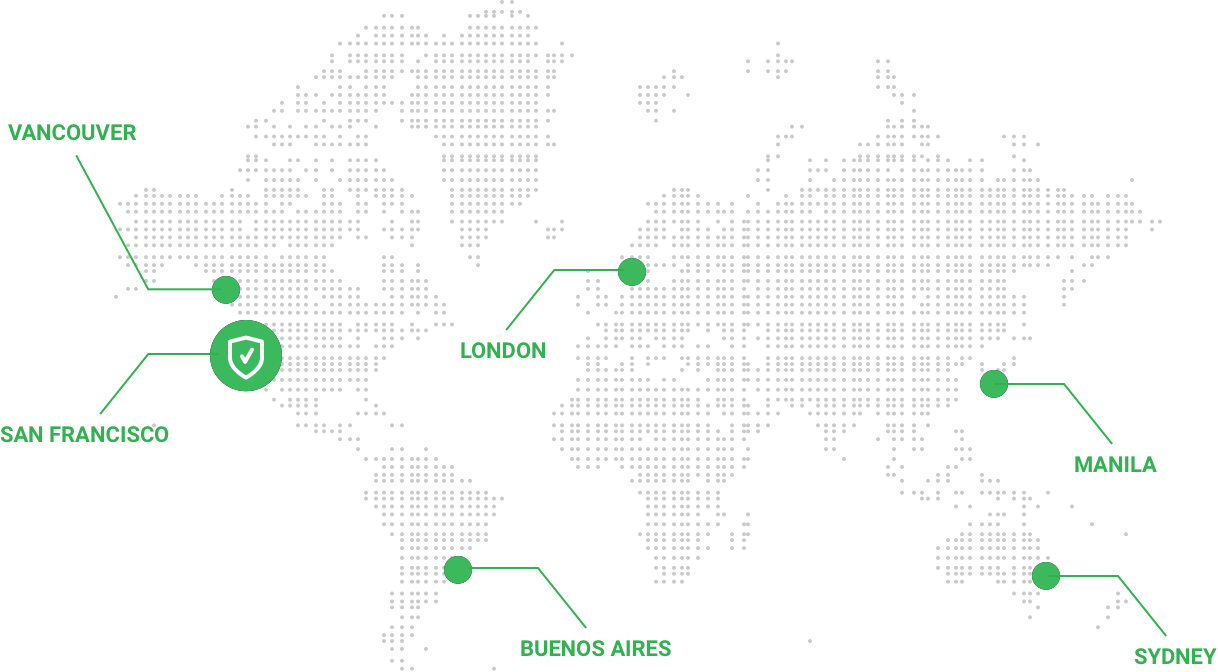 The most trusted, licensed online escrow service in the world
Headquartered in California, Escrow.com is licensed, bonded and regularly audited.
Government agencies perform regular audits of independently licensed escrow companies. The audit examinations serve to protect public funds, determine safety and soundness of operations and determine compliance with escrow statutes and regulations.