eBay integrates Escrow.com enabling the buying and selling of vehicles online
Escrow.com, the leading provider of secure online payments, has partnered with eBay Motors, one of the world's largest marketplaces for all things automotive, to give buyers and sellers added security when trading used vehicles and vehicle parts online.
SAN FRANCISCO, California, 8 July 2020
Escrow.com is integrated into both the eBay Motors website and mobile app, and is the first new digital payment option since the launch of the new eBay Motors app in December 2019.
With Escrow.com as the chosen payment method on eBay Motors, funds are held safely in escrow while the vehicle is tracked and delivery is verified. Once the vehicle arrives and is accepted by the buyer, the transaction is closed out and the seller receives the proceeds of the sale, securely via Escrow.com. If there is an issue with the purchase, the vehicle can be returned to the seller and funds are returned to the buyer form their escrow account.

Buyers can inspect vehicles before the funds are sent to sellers to ensure vehicles are as described in the listing and protecting buyers from fraud. Sellers are protected from counterparty risk, allowing them to safely reach more buyers in more locations, making it easier to transact securely over long distances.
Effective immediately, Escrow.com is available in the following categories on eBay Motors in the United States:
Cars and Trucks
Classic Cars
Collector Cars
Electric and Hybrid Cars
Exotic Cars
Boats
Commercial Trucks
Motorcycles
Powersports
RVs and Campers
Trailers
Other Vehicles
Several thousand listings have already been created on eBay Motors with Escrow.com as a payment option, with the first completed transaction being a 1931 Ford Model A for US$10,000. Escrow.com enabled a secure sale when the vintage vehicle was sold by a seller in California to a buyer in New Hampshire - a distance of over 3,000 miles. Escrow.com allowed the 1931 Ford Model A to be inspected and approved by the buyer at the point of delivery while the funds were safe in escrow. The transaction has now completed successfully and paid to the seller.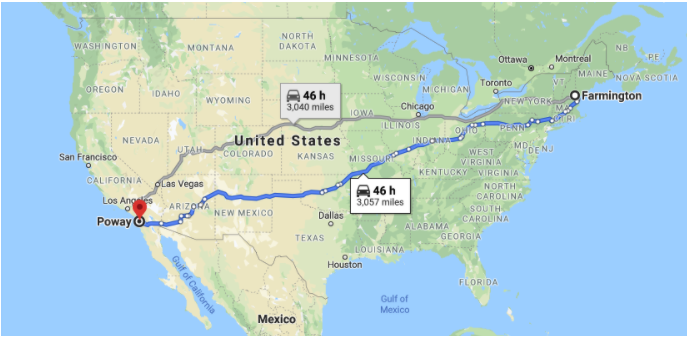 In the past, transactions over the Internet for valuable goods requiring delivery over a long distance could be complex and stressful for both the buyer and the seller. Selling a vehicle over a long distance is easy and safe through eBay with Escrow.com. Dozens of transactions have already been funded via Escrow.com for the purchase of sedans, SUVs, vans, motorcycles, trucks, classic and exotic cars, motorcycles, boats and electric vehicles.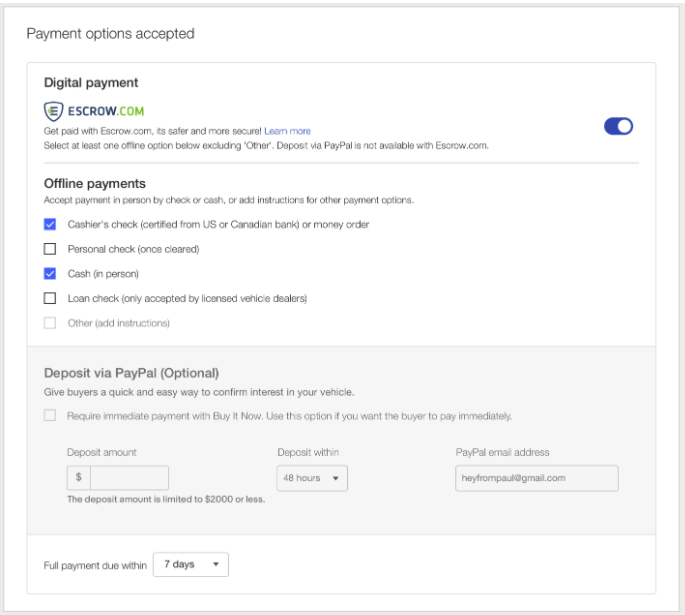 Jackson Elsegood, General Manager at Escrow.com, said, "We are thrilled to have partnered with eBay to integrate Escrow.com for more secure online transactions. Our partnership comes at a time when online security is of the utmost importance. Auto enthusiasts want the assurance of buying safely online. Escrow.com protects eBay Motors customers on those transactions that matter, such as cars, motorcycles, boats, RVs, Powersports and more. From start to finish, each transaction runs smoothly and securely, while buyers and sellers receive equal levels of protection throughout the entire sales process. The Escrow.com experience ensures both parties' payments are protected and professionally handled."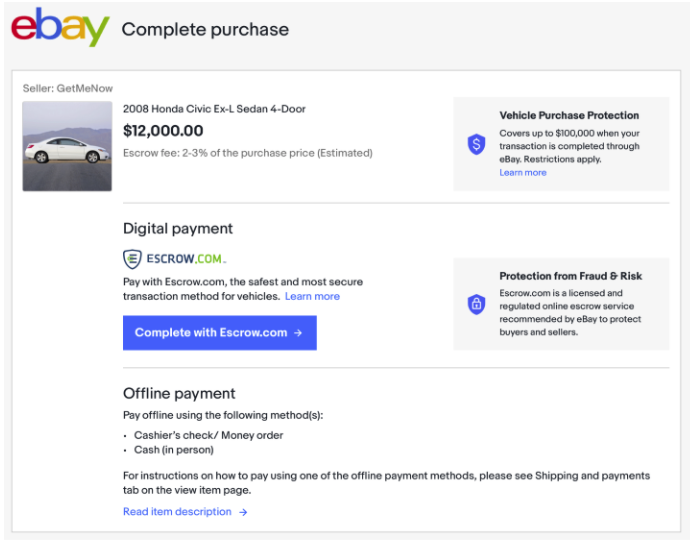 Ron Jaiven, General Manager of eBay Vehicles, said, "eBay Motors is the premier destination for auto enthusiasts and general car buyers looking for unique selection and great value. We always strive to make transacting on the platform more user-friendly and secure. With the introduction of Escrow.com, we're serving an elevated experience that is unrivaled in the market for buyers and sellers alike, and is a game changer in the way users buy and sell cars on eBay."
As the world's most secure online payment method from a counterparty risk perspective, Escrow.com acts as a neutral third party providing eBay Motors' customers the assurance they need to safely transact online. The service ensures the needs of the buyer and seller are treated with equal importance, and both parties receive equal levels of protection throughout the entire process. Escrow.com's simple 5-step process ensures money transfer and vehicle delivery with every sale. Escrow.com will ensure every party receives what was agreed on, every time.
Previously, Escrow.com has been a recommended payment method on eBay since 2000. This new partnership is the first time the payment system has integrated into the product.
More information on using eBay Motors with Escrow.com and how the process works to make buying and selling online easier and more secure can be found here: https://www.escrow.com/learn-more/partners/ebaymotors.
About Escrow.com
Winner of the BBB Torch Award for Ethics for Silicon Valley, San Francisco and the Bay Area, Escrow.com is the leading provider of secure online payments and online transaction management for consumers and businesses on the Internet, having safely processed over US$4.5 billion in transactions. Founded by Fidelity in 1999, Escrow.com reduces the risk of fraud by acting as a trusted third party that collects, holds and disburses funds according to buyer and seller instructions.
Escrow.com is a subsidiary of twelve-time Webby Award-winning Freelancer.com, the world's largest freelancing and crowdsourcing marketplace by number of users and jobs posted. Freelancer Limited is listed on the Australian Securities Exchange under the ticker ASX: FLN.