10 Great Reasons to Choose a Second-Hand Engagement Ring
Wanting to get married is a beautiful thing until you discover how much it's going to cost you. The average engagement ring can be anywhere between $4,000 and a whopping $250,000. This is probably a lot more than most people have saved up for, or are willing to spend.
But just because these numbers look daunting, it does not mean you should settle for less than the best. Round cut diamonds are the most popular style for an engagement ring, and buying one of these can cost you quite a few paychecks. Unless you've had a recent windfall or came into an inheritance, buying a brand-new ring might not be an option. This article will give you some great reasons why you should consider buying a second-hand ring, and where to find one that your spouse will love.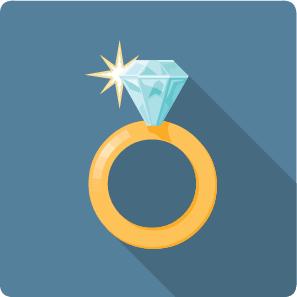 1. Dramatically High Devaluation
Diamonds lose their value incredibly quickly. If you purchase a diamond and walk out of the jeweler's door, the diamond in your hand is worth about one-fifth of what you paid for it. That means buying a diamond is not a good investment, so with such a high loss anticipated, it is wise to opt for a second-hand ring and save on the cost.
2. Extremely Low Resale Value
As diamonds lose their value quickly, it is hard to get a good price if you ever want to resell your engagement ring. You might not find many buyers, because jewelers tend to stay clear of used diamonds for the same reason. Other options might be a pawn shop or online forums, but even there you might not get a good price.
3. You Can Reallocate Your Resources
Budgeting is an essential part of any wedding or engagement. You shouldn't go all out when buying an engagement ring, as there is so much else you need to save up for. Buying a second-hand ring frees up money for essentials elsewhere. Make a mortgage payment, buy your partner a gift, plan a vacation or go on a shopping spree for your wedding. There's no shortage of things that you can do and buy with the money you save by going for a second-hand engagement ring.
4. Nothing to Be Embarrassed About
There is a myth that someone should spend two month's salary while buying an engagement ring, to let their partner know how important they are. This is nothing more than an advertising campaign led by diamond sellers, designed to lure people into paying more for engagement rings.
5. Get More for Less
When it comes to engagement rings, size matters. Everyone wants a ring with a big and beautifully cut rock on it. If they prefer diamonds you might think you are out of luck. But if you consider purchasing a second-hand ring, you can get a better item for a much lower amount. For example, a second-hand 3-karat ring might be equivalent in price to a brand new 1-karat ring.
6. Diamonds Last a Lifetime
Diamonds are tough, and they stand the test of time. It is virtually impossible to scratch or chip them. Buying a second-hand engagement ring does not mean you have a defective jewel. A diamond that has been in use for some time will be as good as one that has been carved and set just recently. Given the durability of diamonds, and considering how hard it is to check how old they are, there is no knowing whether the diamond ring you just bought has been in use already.
7. It Is Good for the Environment
Mining diamonds, or any other gem, is a complicated process. By buying second-hand diamonds, you reduce the need to mine another diamond. You might be thinking that one less diamond won't save the planet, but every single one counts.
8. One's Misfortune Is Another One's Treasure
There's a common saying that used rings are cursed, and can cast an evil shadow on the person who wears it. Well, karma and luck might be true, but if buying a second-hand ring means you get a better item for less money, or you end up making your partner even happier, how can it be anything but the best of luck? An inanimate object cannot define a relationship. What matters more than any curse is the love, trust, and compatibility between a couple.
9. Antiques Are Always in Fashion
Antique jewelry is always in style, and the vintage look only adds to the charm and character of the ring. By going for a second-hand ring, you have a lot more variety with which to choose the perfect ring. These rings will not only have character, but you might be lucky enough to find a ring with a style that is not available on the modern market but is ideal for your partner.
10. Payment
A third party escrow service such as Escrow.com protects your purchase so you can focus on finding the perfect ring. Escrow.com gives you the ability to specify an appraisal as part of your inspection period so you know you are getting the real deal, every time. When you are making a high-value purchase, you will be protected by Escrow.com.
Where to Get the Best Deals on Second-Hand Engagement Rings
By now, you are hopefully convinced about the benefits of purchasing a second-hand engagement ring. Read on to discover the best websites to get a good deal and price.
They are a proper jewelry store, but have a section for the choicest previously-owned rings on their website. You can find beautiful rings that pass all standards of quality at a price around 30% lower than a similar first-hand ring.
Search for the perfect ring and buy it, all without worry. The website ensures you get only genuine products by verifying the authenticity of the product. When you make a purchase, it is delivered to I Do Now I Don'ts Experts, and once the gemologists have verified the ring is as advertised by the seller, it is delivered to you. By going for this option, you can get rings at roughly half the retail value.
You can interact directly with people who want to sell their ring on this site. Make a selection and then make a secure payment through the website, who first verify that the item is as described by the seller. Once this is done, your ring is delivered to you via FedEx.
ZALES has managed to build up an extensive collection of beautiful, used jewelry items by allowing customers to return or trade-in their pieces. You can get a gorgeous item with a price reduced by nearly 60%. With these options, you are bound to find the engagement ring of your dreams, and at a price that will put considerably less strain on your budget.