12 Secrets to buying the perfect second hand jet ski
If you have been mulling over how to own a jet ski , your dream could come true. Anyone who owns a jet ski will tell you the machine is a blast to drive, since it is agile, powerful, and goes at a thrilling speed. Jet skis are more affordable than boats, and greatly satisfy water sports devotees. If you're in the market for one, make sure you know their differences, and go for a model that meets all your needs. Follow a few guidelines before settling on your final choice:
What to look for in your ideal jet ski
1.Size
Most jet skis have a maximum capacity of four people. It is therefore important to consider how many people will be riding yours, and whether you plan to use it as a water vehicle. Other than the number of passengers, do you intend to kayak or tow an inter-tube with your jet ski? Take these factors into consideration, and you will settle on the best craft for you.
A solo stand-up craft is a smaller jet ski operated by a standing solo rider. It is highly agile and used for short races or freestyle competitions, and can only be operated by experienced riders out to have fun in the water. A solo sports craft is for single riders, with seats and stationary steering controls. These are larger than the stand-up crafts, and the rider should be more experienced since the degree of control is higher. A two-seater craft has space for a passenger and a larger engine to accommodate the added weight. It's less agile than a solo craft, but it can negotiate corners at a higher speed and remain stable. A 3- or 4-seater craft is large, heavy, and has higher stability and coziness. This kind of jet skis has such luxurious features such as cruiser seats and navigation systems. You can also use them to tow inflatables.
2. Safety of passengers
You don't buy a jet ski without assessing its ability to keep you safe. A shut-off safety lanyard is a primary feature that turns the engine off in case you fall into the water by accident. Every new unit should have this feature. Check your new jet ski has it, and make sure it's functioning properly.
3. Specifications
Jet skis get classified by the size of the motor. A large motor is more powerful, and travels at higher speed than a small one. The performance of a motor is also affected by size and design. Short and small jet skis give higher flexibility in water, though they can only get operated by experienced riders. Larger and longer jet skis are less agile in water, but they carry more people and are steadier. If a rider has more knowledge about the different specifications and components of jet skis, they are likely to make a better decision. Other factors that you might check are stroke type, aspiration, and fuel consumption.
4. Functionality
It goes without saying that you should not rush to own a jet ski if you have not tested its performance on the water. During the test, ensure it takes off instantly. The power of the jet ski is not critical here, since all of them take off like rockets. Even if you are buying from a dealer, always insist on a water test before buying. The dealer may try to assure you the machine is okay, but a water test drive is the only way to be sure. Verbal assurances will not do much.
5. Storing a Jet Ski
Have a conversation with a motorsports dealer in your area about how to store the unit. A larger jet ski can consume a lot of space, sometimes up to an entire garage. Check the space you intend to use for your unit and buy one that fits.
6. Use of trailers
Since a jet ski is used in various places, transporting it from one area to another is a hassle for many people. Once you buy yours, you will most likely need a trailer. If your current vehicle does not have adequate space, it is imperative to get a vehicle with enough storage capacity.
7. Price
The value of a jet ski depreciates fast, just as motor vehicles do. If you buy a used jet ski, you will save a lot of money in the long run. A used jet ski is priced depending on age, size, internal specifications, and general condition. Check the prices of new and used jet skis before committing to buy. You can visit eBay to get a glimpse of the prices.
8. Inspection
Before you agree to buy a jet ski, focus on inspecting it. If you are purchasing on eBay, arrange a local pickup service that can help you inspect the machine. Check to ensure that all the mechanical parts and engine are functional. The seller should also disclose whether the jet ski has any damage; it should, at the very least, meet basic safety standards. For instance, every jet ski must have a lanyard that cuts out once the rider falls. If you are not sure of the basic mechanical details of a jet ski, seek the services of an experienced person. Don't forget to ask the seller if the jet ski has a warranty.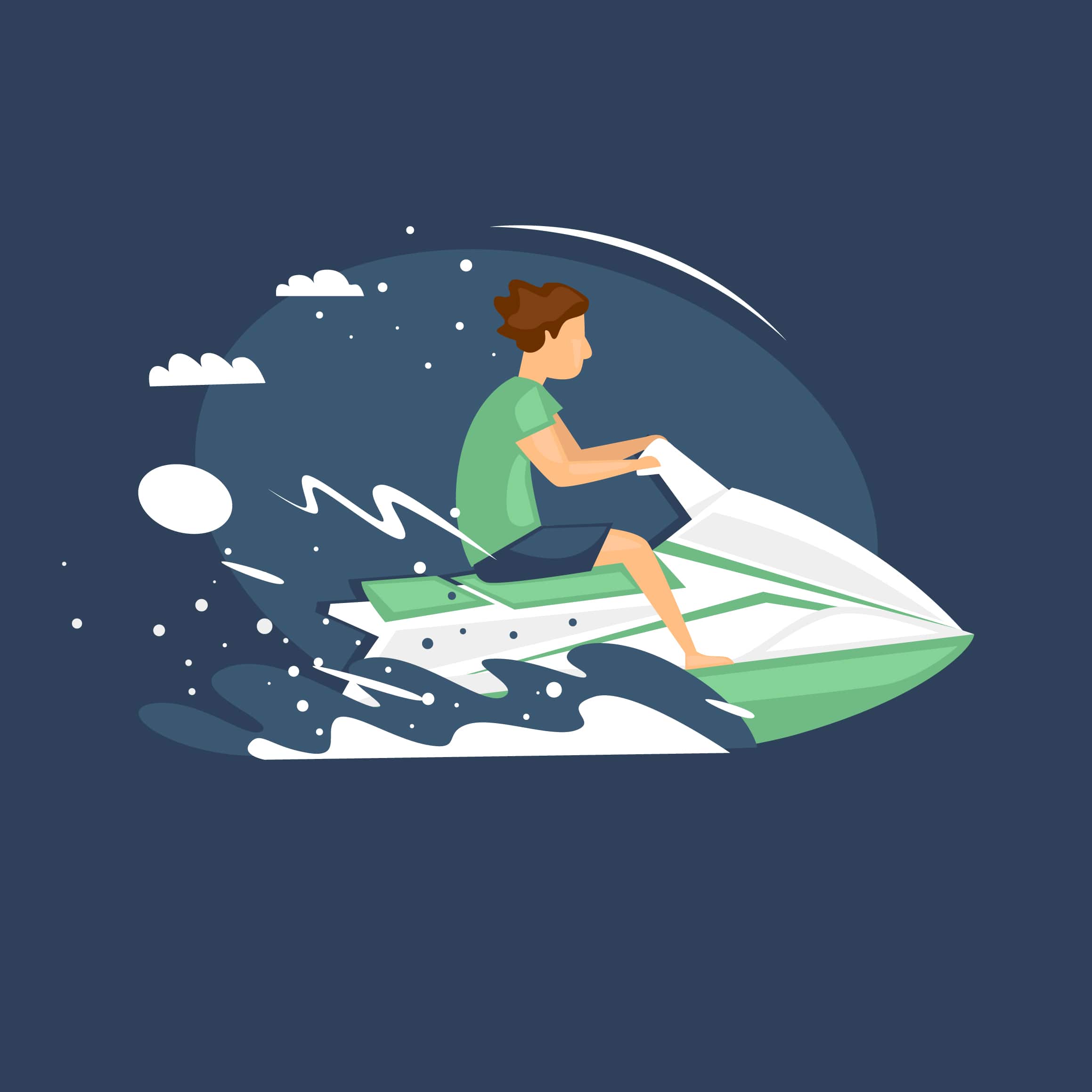 9. Coverage
Before you launch out on your inaugural Jet Ski ride, make sure you have insurance. Your local dealer should have adequate knowledge about the best insurance for your lovely new water vehicle.
10. Avoid 2-stroke jet skis
There are manufacturers who are still making 2-stroke jet skis, but you shouldn't really consider buying one. They are becoming phased out because they pollute the environment more than 4-stroke engines. It is harder to get spare parts for them, meaning you'll struggle to find shops that can work on them. Most of the 2-stroke jet skis are deemed erroneous. If you are not sure what a 2-stroke looks like, it does not have a dipstick because it burns oil. A 4-stroke jet ski has a dipstick.
11. Assess the seller
A jet ski is a premium item that needs proper research before buying. You cannot just commit your money to buy an item whose seller you have not assessed. If you want a positive and reliable experience, buy from a reputable individual or trusted company. If you are on eBay, make sure you view the profile of the seller. You can assess their integrity by checking the feedback they have received from people who have bought from them before. These comments will help you choose wisely. A seller without profile pictures and information are big red flags for you.
12. Protect Yourself Against Fraudulent Sellers
It is common to see a buyer super-excited with the news of receiving his own jet ski in a matter of days. Do not let a fraudulent seller ruin your joy! It is advisable to use an escrow service, like Escrow.com, to protect yourself. We only release the funds to the vendor after you are 100% satisfied so you know you are getting what you paid for, every time.
Conclusion
A jet ski can be very expensive, and it is important to have a budget when purchasing one. Some jet skis come with additional costs, some of which you may not have anticipated. Try to keep unforeseen expenses in mind, and include a miscellaneous expenditure in your jet ski budget. Keep in mind that your jet ski needs to be on top of its game every time you're going to use it. Check the requirements of your jet ski and be ready to meet all of them. eBay is the best site to guarantee you the best jet ski, regardless of specifications. And once you get your jet ski - have fun and enjoy the ride!