Escrow.com introduces Escrow Offer
Introducing Escrow Offer: sellers can negotiate a price online through an Escrow.com Pay Now button.
San Francisco, October 22nd 2018
Escrow.com, the world's most secure online payment system from a counterparty risk perspective, today announced the launch of Escrow Offer™, which allows sellers to negotiate a price for cars, boats, aircraft, domain names, jewelry, fine art and more through a Pay Now button.
Escrow Offer is a tool that can be easily integrated into the checkout payment system of websites, online stores, mobile apps, classifieds sites, or just about any online business that handles financial transactions over the Internet. It is the easiest way to introduce the power of price negotiation into online platforms.
With Escrow Offer, online sellers can review offers, and either accept, reject or counter them. Negotiations proceed until a deal is reached and the secure escrow process begins.
"The ability to negotiate on price has been at the centre of business interactions for big-ticket items for generations," said Jackson Elsegood, General Manager of Escrow.com. "Now, we're bringing that capability into the world of online transactions, giving businesses and individuals the power of negotiation in a safe and secure environment."
"Escrow Offer allows businesses to handle multiple offers and improve online conversion rates, while finding the best price at which to sell or buy an item," Mr Elsegood said.
Escrow Offer comes on the heels of the launch of Escrow Pay, which lets businesses integrate the protection provided by the powerful Escrow API directly into their websites, mobile apps, online marketplaces, classifieds sites in one line of code.
With no minimum fee, and priced as low as 0.89%, the Escrow API is cheaper than credit cards and many other payment methods, while providing the protection of an escrow service. Escrow Offer can be integrated via the Escrow API or through individual Make Offer buttons.
Escrow.com can be used for transactions involving anything of value, including domain names, vehicles, machinery, aircraft or any other item of value that a business or an individual might want to buy or sell safely and securely online. Escrow.com is ideal for transaction sizes from $100 to $10,000,000 or more.
Find out more about Escrow Offer here.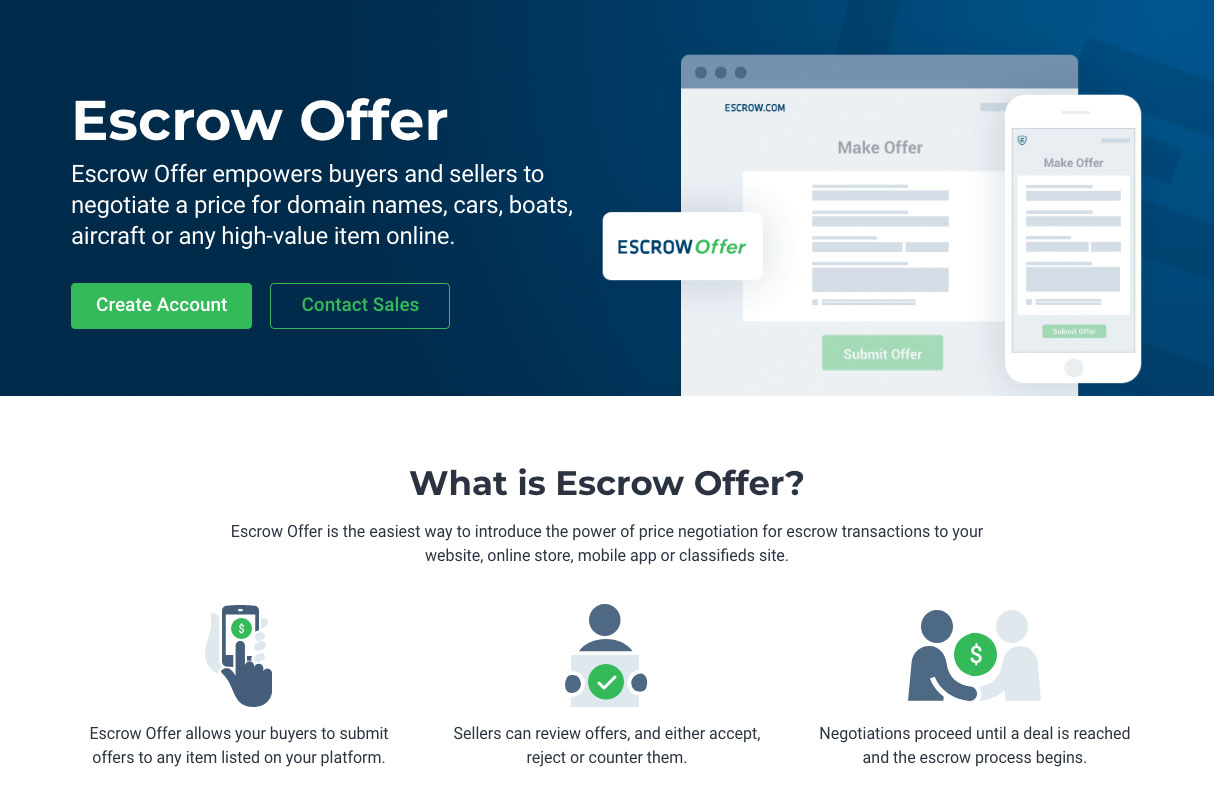 For more information, please contact:
About Escrow.com
Escrow.com is the leading provider of secure online payments and online transaction management for consumers and businesses on the Internet, having safely processed over US$3.5 billion in transactions. Founded by Fidelity in 1999, Escrow.com reduces the risk of fraud by acting as a trusted third party that collects, holds and disburses funds according to buyer and seller instructions.
Escrow.com is also the winner of the 2017 BBB Torch Award for Ethics for Silicon Valley, San Francisco and the Bay Area, an award presented to a business that goes above and beyond in their business dealings with customers, other businesses and the community.
Escrow.com is a subsidiary of eleven-time Webby Award winning Freelancer.com, the world's largest freelancing and crowdsourcing marketplace by number of users and jobs posted. Freelancer Limited is listed on the Australian Securities Exchange under the ticker ASX:FLN