6 Tips to Buying a Winnebago Recreational Vehicle Online
Whether you're retired and plan on spending your twilight years traveling the country, or you just want to take the family on a road trip, there is a wide variety of RV's for you to choose from. Since buying a Winnebago can be expensive and requires some commitment, you should make sure you're well-informed before making such a big decision.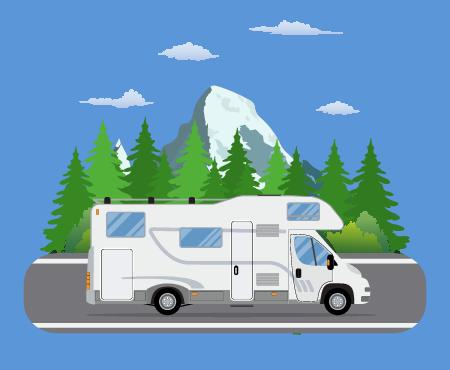 A Buyer's Guide to Finding the Perfect RV
How Will It Be Used?
When looking for an RV, the first thing you need to consider is how you will use it.
Are you looking for something that will only be used for a few weekends a year?
Or are you planning a yearlong road trip?
How many will you need to accommodate in your Winnebago?
Once you've figured out what you will be using your RV, you can decide on exactly what type of RV will take care of your needs.
What Kind of RV Do I Need?
Class A Motorhomes - You can find pretty much every amenity you would find in a normal home, including a full bathroom, living room, kitchen with full-size refrigerator, oven, and stove, and even a master bedroom with a queen size bed. These are also the most expensive RVs with prices starting at $60,000 to over $1 million.
Class B Motorhomes - These are more commonly known as Camper Vans and features many of the same amenities the Class A have, but smaller. It is great for people who like to take trips that last a few weeks. They fit 2 to 3 travelers comfortably.
Class C Motorhomes - Class C is a cross between the Class A and Class B. They can range from 20 feet up to 40 feet and offers lots of sleeping space for the family. Although the bigger ones can rival a Class A, they don't offer as many features and come with a smaller price tag.
Travel Trailers - These are great for shorter trips. They are lightweight and sturdy, which makes them easy to tow. These also vary in size, starting at 12 feet, and going up to 33 feet. The newer models feature slide-outs, bunk beds, and built-in generators.
Truck Campers - This is great for the ultimate outdoor enthusiast looking for a spot out of the way. They easily slide into the bed of a standard pickup bed and offer many of the same comforts of a larger RV, while having the mobility of being able to go wherever your truck can go.
What Do I Need To Consider
Spend some time in the RV to make sure it is roomy enough. Walk around and get a feel for the interior. Can you comfortably take a shower? Do you need a full kitchen if you plan to cook over a campfire?
Another thing to keep in mind is the maintenance of the vehicle. Remember, the bigger the RV, the more things there are to break. Same as with maintenance, the bigger the Winnebago, the bigger the insurance rates. Make sure you check out several insurance companies to find the best deal.
Another thing that goes hand in hand with the size of the RV is fuel economy. The bigger and heavier the Winnebago, the fewer miles per gallon you will get. The newest models now offer so many features that it's tempting to get as many as you can. But that can be a pretty penny so before you buy, figure out what is necessary.
Where Should I Shop for an RV?
Buying an RV is a big decision, and you want to make sure you buy from a reputable seller. For first-time buyers, an RV show is a great place to start. Here, you will have an opportunity to check out a wide variety of RV's and get a feel of what's available. There are also dealer and manufacturer representatives available to answer any questions you may have.
RV dealers are also a good place to search for Winnebago's. Although there are plenty of salespeople willing to help you out and answer all your questions, you should be aware that their only job is to sell you an RV, so keep your guard up.
You can also visit manufacturer websites where you will be able to see the newest and latest in RV innovation. Here you will be able to get a more detailed explanation of everything a Winnebago has to offer.
Should I Rent First?
If you've never owned or even driven an RV, renting first is a great way for you to get a feel for how it is to drive one, and also get an idea of the associated costs. Another benefit of renting first is that you can get a feel for what amenities you will need.
It is easy to get carried away and buy an RV with as many features as possible, only to find out that you only use half of them. It's also possible that your expectation of an RV is not ideal as well. Renting is the best way to experience everything that comes with owning a Winnebago, without all the extra costs.
Should I Buy a New or Used RV?
When deciding to buy a Winnebago, you have an option to either buy a new or used vehicle. The first thing you should take into account is the depreciation of the RV. According to Bob Gummersall, Chief Technical Editor for RVer Online, a factory-fresh RV will see an almost 30% depreciation by the end of the second year of ownership. After six years, your RV will have depreciated to half of the amount you paid. So if this is not a lifetime purchase, you need to take this into account.
If this is a purchase that you plan on keeping and you have the money, then nothing compares to buying a new Winnebago. You can choose whatever features you want, and don't want. You choose the size and dimensions. You have all the power in the world to design your home-on-wheels. Another benefit of buying a new RV is that you don't have to worry as much about unexpected problems popping up, such as mechanical issues or damaged parts.
Escrow Protects Buyer and Seller
Make sure your vehicle has been properly inspected by a professional. Remember, maintenance is expensive so be sure you take your time when choosing a used RV. Also, be sure to protect yourself against fraudulent sellers by using a trustworthy escrow service like Escrow.com.
Escrow works in five easy steps to guarantee safe online transactions:
Buyer and seller agree on terms.
Buyer pays Escrow.com the purchase price.
Seller ships the RV to the buyer.
Buyer inspects and accepts delivery of the RV.
Escrow.com pays the seller.
In Summary
Whether you're just looking to take the family camping during the weekend, or planning to spend a year discovering the outdoors, an RV is a great way to travel in comfort. When it comes time to pay for your RV, use the escrow services at Escrow.com to protect you and the seller from losing either money or property. After all, an RV is a big purchase and investment.