Guide to Selling a Used Motorhome
There are many reasons you may consider selling your motorhome. Maybe you're downsizing, no longer traveling, or just want a new RV.
Whatever your reason, you would like to sell your trailer fast. You will need to spend some time online to advertise your motorhome on multiple platforms. And you need to learn how to safely handle payments while avoiding scams.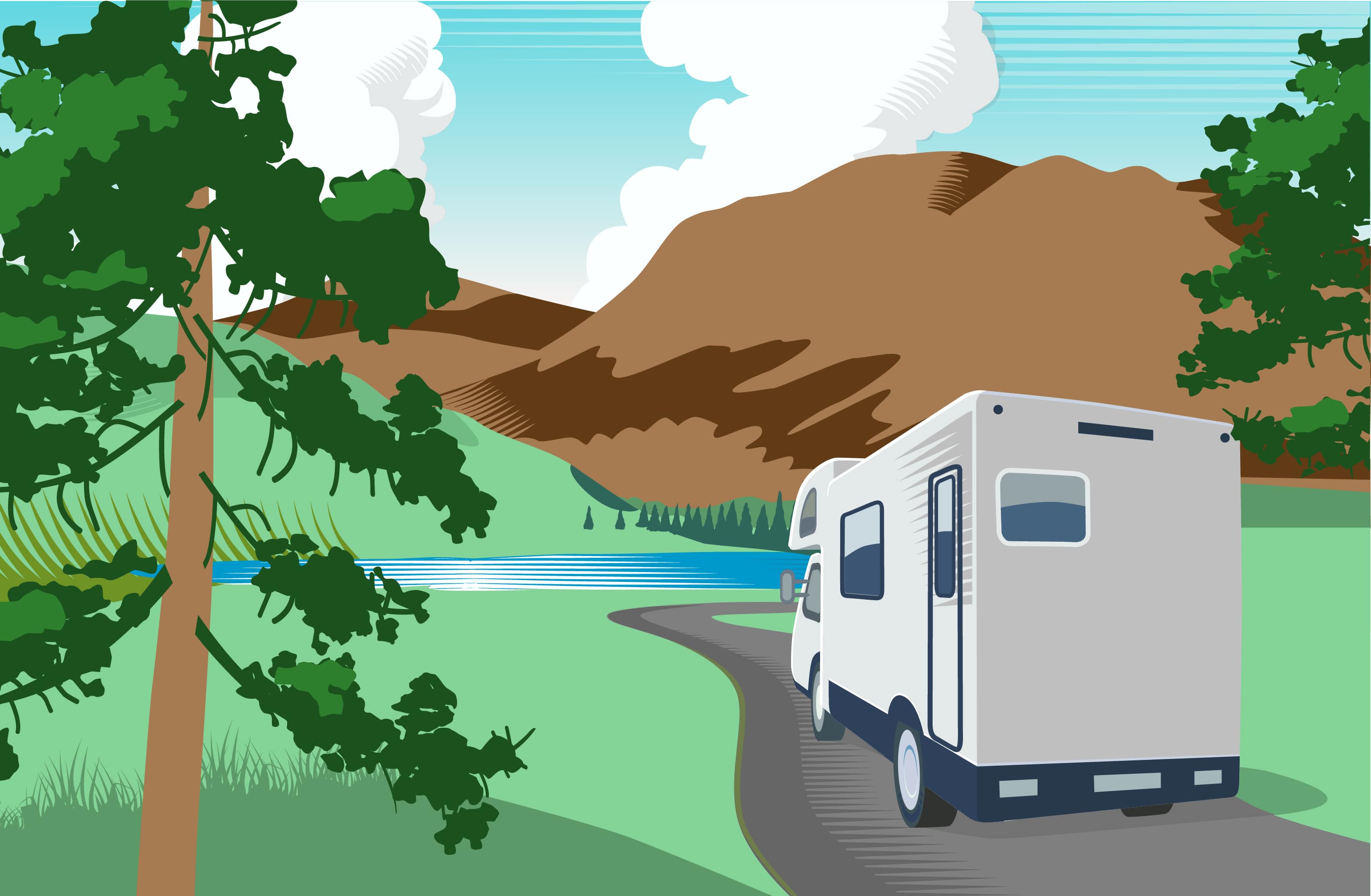 Complete Guide on How to Sell a Motorhome
In this complete guide to selling a used motorhome, we will offer valuable tips on how to sell a trailer fast.
Paperwork Necessary to Sell a Used Motorhome
Before looking for potential buyers, get all your paperwork in order. These are the paperwork necessary to sell a used motorhome:
Pink Slip: Your motorhome's title is necessary to legally sell it to a potential buyer. It will be difficult to sell a motorhome without the pink slip.

Go to the Department of Motor Vehicles (DMV) to select your state and follow the instructions to change vehicle ownership (pink slip).

History Report: A detailed history report helps win a potential buyer's trust. That's important for an RV for sale by owner. You may need the recall information, salvage title, record of maintenance, and record of accidents.
Scoping Out the Competition
There are thousands of RVs and motorhomes sold across the world. You need to match their price and quality in order to sell your RV fast.
Researching the competition will help you figure out how to market your RV, how to create an attractive ad, and how to price your motorhome correctly.
Pricing a Used RV for Sale by Owner
Pricing a used RV for sale by owner is tricky. You shouldn't give away your assets. But you can't lose your competitive edge either.
Consult the National Automobile Dealers Association. They will give you an overview of industry-standard prices and a free quote on your existing RV. The quote reflects your RV's condition, years of operation, and the model.
After getting an estimate, consult Craigslist and other local dealerships. This will help you gauge how other RV sellers are pricing their motorhomes. Having all this information will help you set the right price.
When to Sell a Motorhome?
Your motorhome's value will depreciate the longer you have it. So put your motorhome on the market the moment you consider it. However, you should time the sale carefully.
These are some factors to consider when putting your RV on the market:
People are more likely to buy RVs when gas prices are low.
People buy RVs when the economy is stable or prospering.
People don't look for RVs during the holiday seasons. Even if they do, they'll be on the lookout for a bargain.
People consider spending on RVs during the New Year or before the summers.
Where to Sell a Motorhome?
It's best to list your motorhome on multiple online platforms because you will reach a wider audience.
Autotrader
Autotrader is one of the most reputable platforms for used motorhome sales. The site is intuitive, has several templates you can use, and they have a great reach.
Autotrader also hides your contact details until you're comfortable disclosing them to the viewers. You can also extend the listing period for as long as you like at a reasonable price.
eBay Motors
Just like Autotrader, eBay Motors has an impressive reach and they give you ad templates to choose from. The seller can decide on setting a fixed price or creating an auction.
Craigslist
Craigslist is the best free platform to list your RV ad, but you must be aware of the scammers. If you decide to use Craigslist, you need to make sure you are protected financially as the seller.
How to Sell a Motorhome Fast with Attractive Advertising?
The first step is to decide what platform you are going to sell your motorhome on.
Next, create a persuasive ad that include as much information as possible. Don't leave anything out.
The more information you are able to provide will build your trust with the buyer. It will also save time because you won't have to answer the same questions repeatedly.
Ad Description
The following are some details you should mention in your ad:
Essential details like the RV's year, model, engine, mileage, type, and price.
Why are you selling the RV?
How do you accept payment?
Maintenance records of your RV.
Are there any issues with your RV? If so, mention them upfront. Don't wait for them to find the problem.
Be honest about the condition and history of your RV. If the buyer finds the information for themselves, they may feel cheated. This can immediately sour a sale.
Mention all of your RVs modifications. Have you added an extra TV or solar panels? Does your RV come with an awning? These features may pull buyers and add value to your RV.
Is your RV still under warranty? Is the warranty transferable? If so, mention that upfront along with all related information. If the warranty transfer includes a fee, mention that as well.
Is your price negotiable or is it fixed?
Pictures and Videos
Follow these tips while including pictures:
Include as many pictures and videos that the ad posts allows.
Take high-quality pictures and videos.
Do not photoshopped or modified any images or videos.
Take authentic pictures of your RV's current condition.
Start with an external shot of your RV, perfectly polished and clean, in natural lighting.
Include pictures from several different angles.
Include several detailed pictures of your RVs interiors.
Take specific shots of extra features like TVs and solar panels.
Take a picture of the odometer.
Include a picture of your vehicle report.
Create a video guided tour of your RV. Open all the cabinets and showcase every feature.
While creating an ad, transparency is key. The more information you offer, the better.
How to Prepare Your Motorhome for Viewing?
Once you set up an ad, potential buyers will want to tour your RV. So how will you prepare your motorhome for a viewing?
The following are some tips on preparing your RV for viewing.
Clean the RV inside and out. Shampoo all the carpets. Polish the exteriors and cabinets. Get all the grime out of nooks and crannies.
Does your RV need minor repairs? If so, handle those details immediately. Replace burnt-out lightbulbs or broken light shades. Polish or fix the bumper and hitch.
Park your RV in a public area that receives high traffic. Buyers are often unwilling to meet you at isolated locations.
Print a few 'For Sale' signs and hang them on visible parts of your RV. Your potential buyers may just live close to your RV.
You may also consider a trip to the bodywork shop. Spending a few hundred dollars may just help you get a better price for your RV.
Dealing with Potential Buyers
You'll receive many calls from potential buyers, most of whom will ask the same set of questions. You'll also have to make some time for inspections.
Some will want to buy and some will simply be "window shoppers". You'll also get plenty of requests to lower the cost of your motorhome.
The following tips will help you screen those inquiries.
Open a new email address for the sole purpose of selling the RV.
Use Google Voice to get a free phone number for the express purpose of selling your RV.
Gauge the potential buyer's interest based on the type of questions they ask.
Be wary of people who ask you to immediately lower your price. They may simply buy the RV at a lower price to sell it at a higher price.
Offering Test Drives of Your Motorhome
Eventually, potential buyers will want to take your motorhome on a test drive. This is a great sign, but be careful.
The following tips will help you safeguard yourself and your motorhome.
Start the test drive in a public space.
Test drives should always be done in broad daylight.
Inspect their driver's license before offering the test drive.
Don't go alone for the test drive. Always bring a friend or colleague along.
Don't let them test drive the RV alone. You should always be in the vehicle.
Stay calm during the test drive. Don't use this as an opportunity to sell them on the RV. Answer their questions calmly without overtly "selling" the RV.
Closing a Sale on Your Used Motorhome
If they express an interest after the test drive, it's time to close the sale on your motorhome.
First, let them know you have other test drives scheduled as well. This will encourage them to get straight to the point. It will also subtly let them know that you have other potential buyers so they don't waste your time.
Don't get pushed into accepting a price you're not comfortable with. Let the buyer know your asking price and ask them how much they're willing to offer.
If their offer is low, perhaps you should hold out for another buyer.
How to Accept Payment Safely for a Privately Sold Motorhome?
Once you've negotiated a figure, it's time to accept payment. This part is always tricky. Practice caution because there are a lot of scammers out there.
Cash
If you must accept cash payments, meet at a bank for the transaction. You should also give the buyer a bill of sale and a receipt.
PayPal
PayPal is one of the easiest online methods of transferring payments. But it's not suitable for large transactions because of their heavy transaction fees of 1.5 to 5%.
Personal or Cashiers Check
Checks are used by scammers and you have no way of knowing if the account even belongs to them.
You can meet your buyer at a bank to gauge the check's validity. But that's not always practical or convenient.
Escrow Service
An online escrow service is the safest and most convenient means of accepting payments for used motorhomes.
With Escrow.com, you can set the exact terms of the sale and inspection period. Escrow.com is the ideal payment method because we help with safe payment transfers for both parties involved, and we simplify the legal ownership transfer process.
Escrow.com protects both the buyers and sellers of the motorhome:
The buyer and seller agree to the terms.
The buyer pays Escrow.com.
The seller releases the RV to the buyer.
The buyer inspects the RV.
The buyer releases the funds to the seller after inspection.
Escrow also provides other services and benefits to help with the sale. Our Lien Holder Payoff services make sure there's no outstanding vehicle debt. And our Title Collection service ensures the buyer receives all legal documents.
In Summary
If you follow this guide to selling a used motorhome, you'll sell your RV in no time. Furthermore, with Escrow.com services, you can safely avoid the risk of uncertainty or worries during your transaction.