Everything You Need to Know About How to Sell a Used Car Online
Selling a used car is a major transaction, and there are lots of reasons people do it. With lots of places to sell a car online, knowing how to sell your car quickly, and in the cheapest way is key.
In this guide to selling a car, we provide you with all the information you need to know. Here, you will find tips for selling a used car and information about the best way to take payments. We also help you avoid scams and offer practical advice about setting the price for your used car sale online.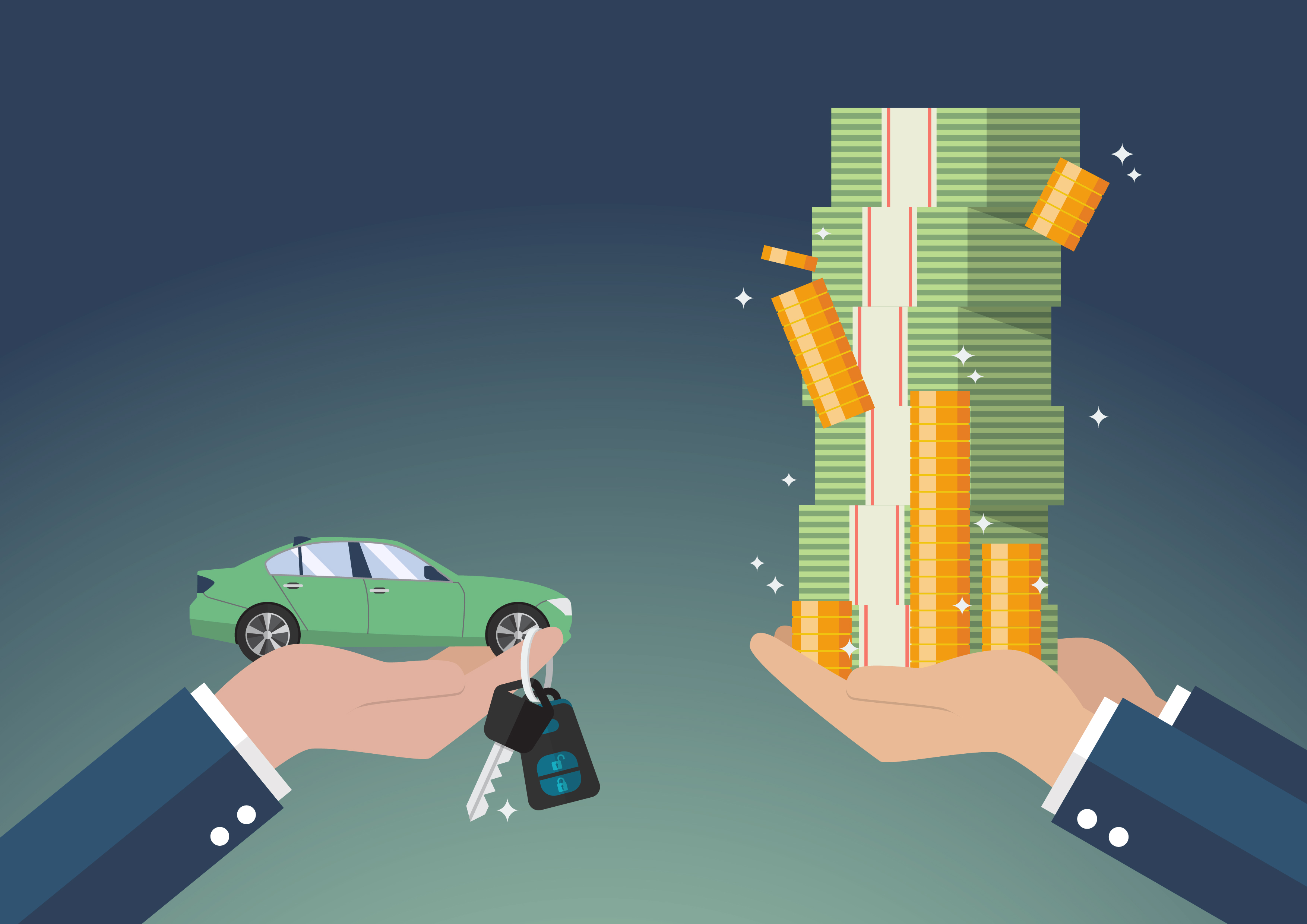 A Complete Guide of How to Sell a Used Car Online
Everybody wants to sell a car quickly and with the least hassle. To do this, you will need to have the right documents and set a fair price. Next, pick the best place to list your used car, then sell and close the deal. Read on to find out everything you need to know when selling your car online.
What Paperwork Do You Need to Sell A Used Car?
If you really want a quick sale for a used car, the first step in the process will be to gather the right documents. Most people make the mistake of listing their car for sale first, then worrying about the paperwork afterward.
Don't do this.
The Title for The Car
You will need to have the car's title in your possession before you list it. This will prove you have the legal right to sell the vehicle. It is also known as the pink slip. Don't sign it just yet, but make sure you have it with you to show any prospective buyers.
If you have lost your pink slip, or you need to get a copy of your car title documents, read on!
Q. How can you replace lost title documents for a car you already own?
A.
In most states, you can apply online or in-person at the DMV for a duplicate car title. Your local DMV can also confirm what paperwork you need to transfer vehicle ownership.
Outstanding Car Finance
Most savvy car buyers will do a finance check on any vehicle they are serious about buying. Some will do this before they call you; others will do it after they have been to see the car. If you have just cleared your vehicle finance, get a confirmation letter from the lender that confirms this. Although you won't always need it; it's good, have it just in case. If a potential buyer requests it, you can prove the car is finance free.
The Accident and Repair Record for the Car
While you are not obliged to do this, it can make the process easier for the buyer when you are proactive on this point. A vehicle history report will detail everything a buyer will need to know about the history of the car you want to sell. It has nothing to do with the current state of the car. However, as it tells a buyer how the car has been treated and maintained; it can be a positive sales tool. Here are the main points a vehicle history report will cover.
A history report can alert to the fact of whether or not a vehicle odometer may have been rolled back. It can also confirm the validity of the mileage of the car to a potential buyer.
How many owners the vehicle has had
You can quickly prove how many people have owned the vehicle and how it has been used. If a buyer sees the vehicle was used as a company car, a lease car, or even a taxi, it may force them to reconsider their offer.
This data is useful, but there are many other sites that offer this data for free.
A salvage title is only ever issued by an insurance company to alert potential buyers of a previous accident. If you are trying to sell a car with a salvage title, this could result in you HAVING to reduce the price Vs. the current market value.
A vehicle history report can often show the service history of a vehicle. If your car gets serviced by a dealership, it should be present in this report. If you service your car in a smaller independent garage, it might not show up. For this reason, make sure you keep a paper record of any money you may have spent towards the upkeep of the vehicle.
If you are trying to sell a used car that has been in an accident, then it will probably show up on this report. Not all car buyers will rule out buying a used car because of this. However, you should always be upfront with any potential buyers. If you can, keep any relevant paperwork from the accident repair to verify the work was completed to put things right.
Q. How much does it cost to get an accident and repair report for a used car?
A. There are a couple of places you can order an accident report form online. If you use CARFAX, a single report will cost $39.99. If you use AUTOCHECK, the cost is only $24.99. Be proactive and order an up to date vehicle history report. You can display this on your car sales advert to attract more buyers. It will also give them more confidence in you as a genuine seller.
TIP: If you are selling your car online, some platforms and classified car advert platforms will give you the option to upload your report.
Pricing a Used Car to Sell
By setting an attractive price for your vehicle, you can help it stand out. This is a critical part of selling a used car online. As such, you need to get it right the first time. Most people use filters to narrow down their search for a used car to buy. So, you need to make sure you don't overprice your car and miss out.
Most people expect to negotiate the price of a used car a little. So it can be tempting to add a little more onto the asking price.
This is not going to help you sell your car any quicker. In fact, it might prevent you from selling it as quickly as you could.
There are a number of sites you can use to help you the correct market value for your used car. Kelley Blue Book and Edmunds are both great options. Another tip is to check any used car selling sites to see what other similar age vehicles are selling for.
However, if your car has added extras, a better service history, or anything else that warrants a higher selling price; then make sure you clearly state this on your advert. If you are selling a high-priced used vehicle, don't be tempted to round it up to nearest $1,000. This could result in you missing out, and by pricing it just a few $100's less, you could potentially attract more viewers.
Get Your Car Ready to Sell – Make Sure it Looks Appealing
If someone wants to inspect your vehicle, you need to make sure your car is presentable.
You need to ensure they get a great first impression. In most cases, a wash, a wax, and a good vacuum can do wonders!
If you're selling a higher-priced car, some basic bodywork could help you get a better price. The more issues a buyer see, the bigger discount they might request.
So, if you are selling a used car online for $1,000, then a wash and wax will be fine. But for a car worth $10,000 or more; a $400 trip to a bodywork shop could help you get a much higher selling price.
How to Write the Best Used Car Sales Advert
When you list your used car for sales online, you want it to get noticed and attract the attention of as many buyers as possible. Use these tips to help you put together the best used car sale listing.
Images
Most used car selling sites will allow you to upload between 10-20 pictures of your vehicle. You want to make sure you use as many images as you can.
Take high-quality, HD pictures where possible.
Always take photos of your car during the daytime.
Take pictures from every possible angle.
Use images that show the inside and outside of the car.
Use close-up images of wheels, tires, bodywork, car audio, etc.
Include a picture of the odometer reading
Take a picture of your vehicle report if you have one.
Advert Title
If you want your advert to stand-out, you need a catchy yet informative title. While you are limited to the number of characters you can use, you need to make the most of what you have available.
If you have a full-service history, added extras, air conditioning, a vehicle report, immaculate bodywork, no accidents, one owner, or low mileage; these are all important points to highlight in the title. Even if you're not a natural salesperson, find the best features of your car and write them in the title.
Complete all the Required Information
The majority of used car selling sites will pre-populate a lot of the standard vehicle information for you. However, you will be able to write some free text that gives you the space to include details of your vehicle specifics. Use this wisely!
As with the title for your ad, this is your chance to make a great first impression. Use bullet points to make it easier for the reader to digest the information. While it's important to use this space to help you sell your car, you also need to be upfront about any downsides as well. If the car has a few minor scuffs, make sure you include this in your advert.
When people search for a used car for sale, they expect a few minor points. The point you need to remember is to be genuine. Being upfront and honest is far better than trying to hide things which buyers then see when they come to expect the car.
As a minimum, you need to make sure all the below points are included within your used car sales advert.
Make, model, and year of manufacture
Options and options packages
Engine type
Transmission
Ownership history
Interior Features
Vehicle condition — interior, exterior, and mechanical
Additions or modifications
Maintenance records or service history.
Warranty information — if applicable
Where Can You List A Used Car for Sale?
There are lots of options and plenty of used car selling sites you can use. You can also try placing an advert in the local paper.
The preferred option for most is to list their car for sale online. Not only will you reach more people more easily; you get better value for money.
Autotrader
Selling a car on Autotrader is the preferred option for most people. Prices start from just $25, and they are the most well-known used car sales site across the US and beyond. One of the most appealing factors is the incredible reach the site offers. Their site is easy to use, you get a template to guide you and lots of space for images. Another feature that car sellers enjoy is that they do not list their personal details online. Autotrader will mask your phone number from the public. Car buyers get a temporary number that connects to any mobile or landline of your choice. If you only want to get emails from interested parties, this is also made possible by the site.
If your car doesn't sell, you can roll-over your advert and extend the listing period for a reasonable price too.
eBay Motors
Using eBay to sell a used car is just as easy as Autotrader. They give you a template, and most of the information is uploaded for you when you enter the registration of the vehicle you want to sell. There is lots of space to add your own description, and you can include as many images as you like as well.
According to eBay, a used vehicle is sold on their site every three minutes, so there is certainly a good market here. The cost to list a vehicle will depend on whether you choose a fixed price listing or an auction. Both have their pros and cons. eBay also offers some useful tips to help you know how to list a car for sale on their site. Getting started is just a two-step process, so it is just as quick and easy as using Autotrader.
Q. What type of auction is best on eBay for selling a used car?
A. There are four different types of auctions you can use to sell a car on eBay. We will provide you with a quick summary of each.
Best Offer Listing
If someone is interested in buying your car, they can submit the best offer for your consideration. If you accept their offer, the listing is immediately closed, and no further offers will be sent. If you want to sell a car quickly, this is a good option.
Reserve Price Listing
This allows you to set a minimum price for your auction. There is less risk running an auction like this because your vehicle will not sell for less than the minimum price you state you are happy to accept. This is a good way to sell a higher-priced used car on eBay.
Buy It Now Listing
This is an easy way for you to state the exact price you want to sell your car for. If you want a quick sale for a fair price, a 'buy it now' listing is ideal. You can also use this as an extra option within a normal auction to encourage a quicker sale.
No Reserve Price Listing
You can set a starting price for your bid when you use a no reserve price listing. Any bid that is either at or above your starting price can be accepted once the auction has run its course. A lower starting price is a good way to encourage more bidding, but there is an element of risk if there isn't enough interest to drive the bidding upwards.
The fees for each of these options will vary, and it is important to check the site thoroughly to make sure you fully understand their fee structure.
Craigslist
While listing a car for sale here is free, the platform has been associated with various car selling scams. As such, you are less likely to attract attention from serious bidders, and there is going to be significantly less exposure for your vehicle.
How to Handle Calls from Potential Buyers
Selling a car online can be time-consuming. Handling all the calls and inquiries that come in, not to mention the inspections takes time. If your ad is generating interest from qualified buyers, then, of course, this is positive. However, there is always calls and inquiries that come from people who are not necessarily ready to buy. There is also the chance that people might call you for other reasons. You might also get calls from dealers who want to offer you a lower price for your vehicle.
There are a couple of ways you can screen your inquiries so that you don't waste time.
If you list your car for sale on Autotrader, they have a few useful features. Nobody wants their contact information published online. Autotrader gives you a unique number and mailbox, meaning your data stays private.
You could open a new email address just for the purpose of selling your car. You will then only need to check this a couple of times a day. Once your car sells, you can close it down.
Google Voice will give you a free phone number. This is another easy way you can avoid having to post your data online.
If you want a quick sale, you may decide to list your car for a lower price. If you do this, then you can expect to get lots of calls. Don't try to answer them all, use voicemail to screen them.
When you speak to someone who sounds interested in buying your car, you can usually tell if they are interested in the questions they ask.
TIP: Watch out for people who just want to get a price reduction straight away, they might be trying to get a low price so they can resell the car at a higher price.
How to Handle Test Drives When Selling a Car
If you speak to a potential buyer who wants to take the car out for a test drive, this is a great buying signal. However, you need to handle the request correctly in order to safeguard yourself and the car. Here are a few tips for the best way to handle requests for a test drive.
Ask the buyer to meet you in a public place.
Always do your test drive and inspection during daylight.
Ask to see their driving license before you go for a test drive
Try to bring a second person with you, such as a friend or colleague.
Never let a buyer test drive a car alone – always stay with the car.
When you are on the test drive, do not feel that you need to sell them the car. Answer their questions, but don't force the issue and overload them with information at this point.
How to Close a Sale on a Used Car
If the test drive goes well, the buyer might be ready to start negotiating. It's always a good idea to let them know you have other test drives planned. This will encourage them to let you know of their intent right away.
Negotiating with a car buyer isn't an easy process. However, there are a few ways you can help this go smoothly for both parties.
Always have a minimum figure in mind that you are willing to accept. One of the first questions most buyers will ask is 'what is your lowest price.'
You might want to hold-out for an offer closer to your asking price. If this is the case, there are a few things you can say.
'I feel my asking price was fair, but what can you offer?'
'I valued the car fairly; how much would you offer?'
It's a good idea to let the buyer know there is other interest. Make sure you tell them they are willing to pay the asking price. If they are serious, this could motivate them to make an offer.
Don't be forced into taking a lower price than the car is worth, don't be pushed into making a quick decision. If you have done your research and the car is priced to sell; the right buyer will come along who will pay the price you're asking.
The Best Way to Accept Payment for a Private Car Sale
There are lots of ways you can take payment for a used car sale. In years gone by, cash was always king. However, there are many risks when doing it this way. You need to give yourself complete protection when handling the payment.
Here are the best options for accepting a payment for a used car sale.
Accepting Cash Payments for a Private Car Sale
While this is a tempting offer, you need to consider the risks before you accept a cash payment. Carrying money around in large quantities is unsafe. You are essentially carrying out a major transaction with a stranger. With this in mind, make sure you stay safe at all times. Payment is immediate and are no fees, but it is not the safest method of payment.
If you decide to take a cash payment or the buyer can only pay with cash, try to meet at a bank to carry out the transaction and make sure you provide the buyer with a bill of sale and a receipt.
Accepting PayPal for a Used Car Sale
Most people will have a PayPal account. Using it to transfer money to buy and sell goods is easy. For a major transaction, such as selling a car, there are a few drawbacks. Depending on your PayPal status, they could hold on to your funds. This could be for anything between 1-21 days. There are also the processing fees to consider, which range from between 1.5-5% of the overall transaction amount.
Accepting a Personal or Cashiers Check for a Car Sale
Accepting a check to pay for a car comes with a few risks. Firstly, how do you know that the person who is writing the check has the funds in their account to clear the payment? Secondly, how do you know that the account belongs to them?
Although most people consider a cashier check acceptable for a used car payment, they are notoriously used fraudulently, as such, they are not the best options for the seller.
While you could make an appointment at the bank where you both attend together, this isn't always practical, and for out of state car sales, it just won't work.
Using an online Escrow Service to Accept Payment
A bonded escrow service can reduce fraud for car sales transactions. You can set the exact terms of the sale and the inspection period. With escrow.com, there are many advantages to car sellers. Most of which are customized to the used car buying process, giving both the seller and buyer extra protection.
Escrow.com provides several additional motor vehicle services to give you peace of mind.
Lien Holder Payoff services will guarantee there is no outstanding vehicle debt. This can give a buyer greater confidence in the car. If the car is debt-free, Title Collection means the buyer will receive all the correct legal documents. This takes the hassle out of the legal ownership transfer process for you both.
Finalizing the Sale of a Used Car
Once you and the buyer have made arrangements for the payment, you will need to get the paperwork in order.
On the day you sell the car, you will need to sign and date the title. You will then need to provide the buyer with a Bill of Sale. In certain states, there is also a legal requirement to file a 'release of liability' form. This will prove you no longer own the vehicle.
After this, you just need to ensure your insurance and breakdown are stopped.
If you need to buy a used car online, take a look at our guide to buying a used car online `here </cn/buy/cars>`__.