The Complete Guide to Personal Protective Masks
Coronavirus (COVID-19) has taken the world by storm. Its presence is putting an unprecedented level of strain on every part of society, across all corners of the globe. Most of the world's countries have shut down their borders and restricted travel in an attempt to control its spread.
For many of us, it is the biggest disaster of our time, and at the point of publication, there are over 2.1 million cases worldwide, with more than 140,000 known fatalities. At this stage, nobody truly knows just how long the pandemic will last, nor how many lives will be lost.
People are looking for ways to protect themselves when out in the streets, shopping for essentials, and in some cases, when going to work. In this post, we explain what the different types of Personal Protective Equipment (PPE) are, what they protect against, and offer a complete comparison of the best types of face masks that can be bought and sought out online.
Staying Protected During the COVID-19 Pandemic
Never before have so many people taken to the streets wearing face masks. But according to a report detailing advice about wearing face masks from the World Health Organization (WHO), which was updated on April 6th, they remain clear on the fact that medical masks should be reserved for health care workers.
However, just nine days later, World Health Organization official Dr. David Nabarro spoke with LBC and stated that there cannot be a blanket recommendation for the whole world and that individual governments must make their own judgment.
Furthermore, he states: "I do believe, as I've said before, that we'll move towards the widespread wearing of masks while the COVID virus is still roaming around our communities."
Some countries in Europe have already made the wearing of face masks mandatory, such as Germany and the Czech Republic. In Spain, and in Italy, police officers have been handing out face masks to members of the general public.
In the U.S., health officials at the CDC are recommending the use of face masks in an attempt to help curb the spread of the disease. This is in addition to many Asian countries, including mainland China, Hong Kong, South Korea, Japan, Thailand, and Taiwan.
However, one thing that all countries seem to agree on is that a mask, or any type of PPE, is useless if you do not take additional precautions and follow current health advice, such as:
Prior to putting any type of face mask on, you need to clean your hands with an alcohol-based soap or hand rub.
Covering your nose and mouth with a mask and ensuring that there aren't any gaps between the mask and your face.
The avoidance of touching the mask while you're using it. If this does happen, you need to clean your hands with soap and water or with an alcohol-based hand rub.
You must replace the mask with a new one if it becomes damp.
You should not reuse a single-use face mask.
Dispose of it properly into a plastic bag and into a closed bin.
With unprecedented demand for Personal Protective Masks (PPMs), health professionals around the world are in short supply. These heroes are the people fighting the infection on the front line. This surge in demand, along with bulk-buying of PPE, has driven people and organizations online, as they try to source masks from outside of their usual procurement channels. Global companies are working hard to produce PPMs, businesses are adapting their operations in order to produce PPMs and PPE, and supply chains are responding to the demand to deliver.
The world is uniting in an attempt to meet the demand for PPE and PPMs. Whilst countries are competing to buy protective masks, scammers and fraudulent facemask transactions are also on the rise.
The Different Types of Protective Masks
There are three main categories of protective masks to buy. These are Surgical masks, Respirators, and Fabrics masks. In this section, we'll explore each, and explain what they are, how they work, and how they differ.
Fabrics Masks
Surgical Masks
Respirator Masks
The two core types of protective masks are surgical face masks and N95 respirators. The Center for Disease Control and Prevention (CDC) does not recommend the use of N95 respirators by the general public. It also does not recommend people use surgical masks if they are well.
So, what is the best type of mask to help protect against COVID-19? Table 1 below offers a generic explanation of the key differences between surgical masks and N95 respirators.
Surgical Mask Highlights
Surgical masks are a single-use protective device that fits loosely. By wearing a surgical mask, there is a barrier against contaminants entering the nose and mouth of the wearer. They come in different thicknesses, which dictate their ability to protect from contact with airborne liquids.
Surgical masks help to protect from droplets, splatters, and splashes that contain bacteria and viruses. They also protect others from the spread of germs from your respiratory secretions and saliva.
Surgical masks are single-use, and should be disposed of properly once they become damp. They should not be reused.
N95 Respirators Highlights
An N95 respirator efficiently filtrates airborne particles when fitted properly to the face. They are single-use, and it is important to dispose of them properly.
They are effective for up to eight hours and block up to 95% of very small airborne particles. When you fit an N95 respirator correctly, it is more efficient than a surgical mask. However, it does not completely eliminate the risk of illness.
People with facial hair or children should not use a respirator, as it will not achieve a proper seal.
Understanding the Difference
Surgical Masks

N95 Respirator

Testing and Approval
Cleared by the U.S. Food and Drug Administration (FDA)
Evaluated, tested, and approved by NIOSH as per the requirements in 42 CFR Part 84
Intended Use and Purpose
Fluid resistant and provides the wearer protection against large droplets, splashes, or sprays of body or other hazardous fluids. Protects the patient from the wearer's respiratory emissions.
Reduces wearer's exposure to particles including small particle aerosols and large droplets (only non-oil aerosols).
Face Seal Fit
Loose-fitting
Tight-fitting
Fit Testing Requirement
No
Yes
User Seal Check Requirement
No
Yes. Required each time the resiprator is donned (put on)
Filtration
Does NOT provide the wearer with a reliable level of protection from inhaling smaller airborne particles and is not considered respiratory protection.
Filters out at least 95% of airborne particles including large and small particles
Leakage
Leakage occurs around the edge of the mask when user inhales.
When properly fitted and donned, minimal leakage occurs around edges of the respirator when user inhales.
Use Limitations
Disposable. Discard after each patient encounter.
Ideally should be discarded after each patient encounter and after aerosol generating procedures. It should also be discarded when it becomes damaged or deformed; no longer forms an effective seal to the face; becomes wet or visibly dirty; breating becomes difficult; or if it becomes contaminated with blood, respiratory or nasal secretions, or other bodily fluids from patients.
Everything You Need to Know About 3M 1860 Masks
Over recent weeks, 3M's 1860 masks have been in high demand, so much so, we thought they deserved their own section in this guide. In a nutshell, their resistance to fluid is the key reason they are so sought after.
Key Information About 1860 Face Masks
The 3M 1860 is a Health Care Particulate Respirator and Surgical Mask, offering ultra-high levels of respiratory protection for the wearer. It is a disposable respirator, yet as a surgical mask, it is fluid-resistant to spatters and splashes of infectious substances.
Its features encompass:
NIOSH approved N95
FDA cleared for utilization as a surgical mask
Cup-shape design is resistant to collapse
According to ASTM F210199% Bacterial Filtration Efficiency (BFE)
Compliant with CDC guidelines for Mycobacterium tuberculosis exposure control
According to ASTM F1862, it is fluid-resistant
No components are made from natural rubber latex
Cushioned nose foam, braided headbands, and lightweight construction for comfort
Disposable Respirators are also known as Filtering Facepiece Respirators (FFR). They are subject to various regulatory global standards that outline specific physical properties and performance characteristics in order for them to be compliant with the FFR standard.
In the event of a pandemic, such as the one we are faced with at present, health authorities will refer to these standards when they make any respiratory-related recommendations.
The table below shows a summary of different respirators that are certified as being compliant with these standards. While each performs and functions in a similar way, there are a number of key differences that it's important to review.
Below is a list of the definitions used in Table 2:
Filter Performance – the filter is evaluated to measure the reduction in concentrations of specific aerosols in the air that passes through the filter.
Test Agent - the aerosol that is generated during the filter performance test.
Total Inward Leakage (TIL) – the amount of a specific aerosol that enters the tested respirator facepiece via both filter penetration and face seal leakage, while a wearer performs a series of exercises in a test chamber.
Inward Leakage (IL) – the amount of a specific aerosol that enters the tested respirator facepiece, while a wearer performs normal breathing for 3 minutes in a test chamber. The test aerosol size (count median diameter) is about 0.5 micrometres.
Pressure Drop – the resistance air is subjected to as it moves through a medium, such as a respirator filter. IMPORTANT: Always read and follow respirator user instructions.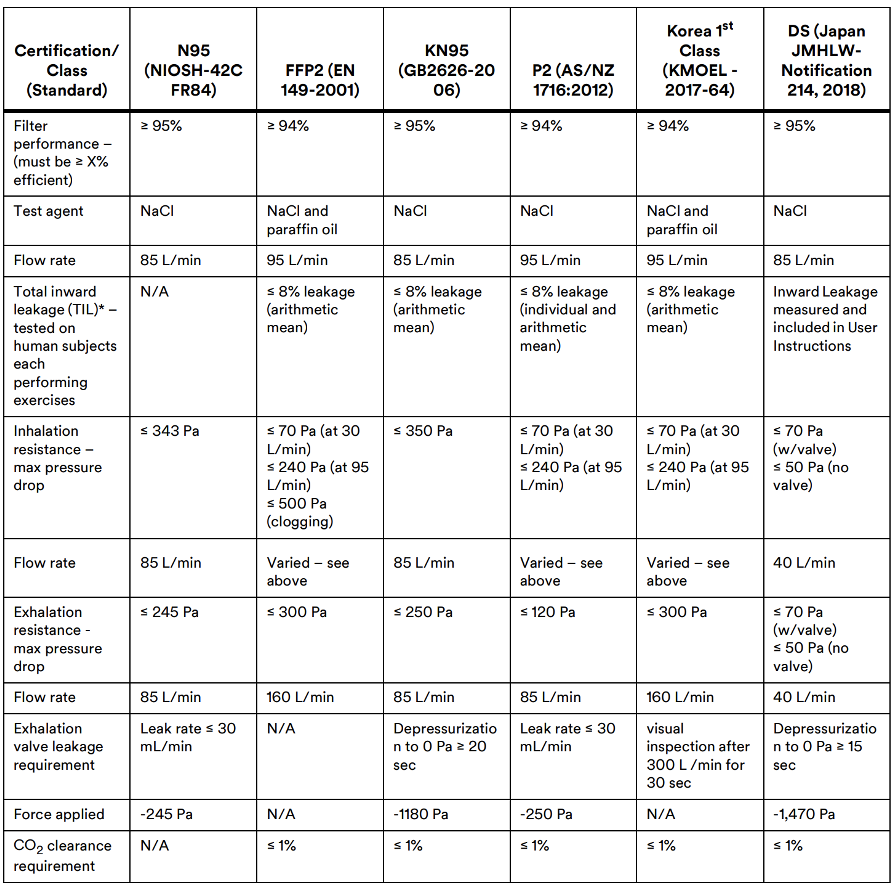 How Escrow.com Can Protect You
The procedure is straightforward and benefits both Buyers and Sellers . You can complete the formalities within a few minutes, whether your order is for a single facility or into the millions of dollars.
Using escrow.com's service protects you when buying and selling goods on the internet. Escrow.com is a fully licensed, accredited Escrow company.
When buying products from the internet, create the inspection rules with the Buyer and deposit the purchase price into your Escrow.com account. The money is held securely until you have the chance to inspect the goods. It protects the Buyer and Seller from fraud when buying products online.
Escrow.com is a low cost solution offering a simplified sales process. It collects, holds, and only releases payment when both the Buyer and Seller are happy with the transaction.
How Does Escrow Work?
Use Escrow.com to make safe payments online. This protects the Seller and you as the Buyer in a simple five-step process:
Both the Buyer and Seller agree to terms - Either the Buyer or Seller begins a transaction at Escrow.com, and all parties agree to the terms of the transaction.
The Buyer pays Escrow.com - The Buyer submits a payment by approved payment method to our secure Escrow Account. After Escrow.com verifies the payment, and the Seller is notified that funds have been secured 'In Escrow'.
The Seller ships the Masks to Buyer - Upon payment verification, the Seller is authorized to send the Masks and submit the tracking information online. Escrow.com verifies that the Buyer receives the PPE.
The Buyer accepts the Masks - The Buyer has a set number of days to inspect the merchandise purchased and the option to accept or reject it.
Escrow.com pays the Seller - Escrow.com releases funds to the Seller from the Escrow Account.
How to Use Escrow.com for PPE Transactions?
To get started contact Escrow.com directly by calling or emailing "sales@escrow.com." All prices are worked out on an individual basis, so it's important to contact support to obtain this specialist pricing. We quickly provide you with an individual fee quotation based on several factors.
The fees for PPE transactions will be lower than our standard rates. For any PPE medical equipment such as n95 masks, respirator masks, paper masks, gloves, and other medical supplies, we are providing bespoke pricing with lower fees during these challenging times.
Do not hesitate to contact us when you have any questions about shipping or buying PPMs. Our experienced customer service personnel are here to help. Either call us, send an email to support@escrow.com, or contact chat support when they are online.