As Beef Prices in the U.S. Hit Record-High – Wholesale Beef Brokers Look To Secure Supply Chain Using Escrow
Payment protection with Escrow.com
San Francisco, 22 May 2020: By the end of April 2020, the price of fresh meat was already up by 8.1%. As COVID-19 causes yet more disruption to the economy and severe supply chain, prices have risen higher and demand for meat outstrips supply for the first time in a very long time.
The problem isn't just limited to wholesale beef prices. According to a report issued by Cobank this week, meat supplies into grocery stores are likely to be reduced by up to 30% by as early as Memorial Day, and this will impact the price of pork as well.
The Size of the Meat Shortage Issue
The cause of the problem stems from the fact that many meat processing plants have been closed entirely, or they're working on a significantly reduced capacity. This is how the bottleneck has been created, and while it's expected to be temporary, the long-term effects of the situation will impact livestock producers, cattle prices, meat processors, consumers, and retailers alike.
According to the latest figures from the CDC, over 115 poultry and meatpacking plants across the U.S. have reported cases of COVID-19. So far, around 20 of the major plants have closed temporarily. With around 5,000 confirmed cases, and more than 20 deaths already recorded, it appears that meat packing plants have become a hotspot for the virus.
The present situation is so severe, that just last week, Donald Trump took executive action in order to keep the meat packing plants open. Despite local and state pressures for them to close down, the U.S. Department of Agriculture now has a far greater level of discretion than before.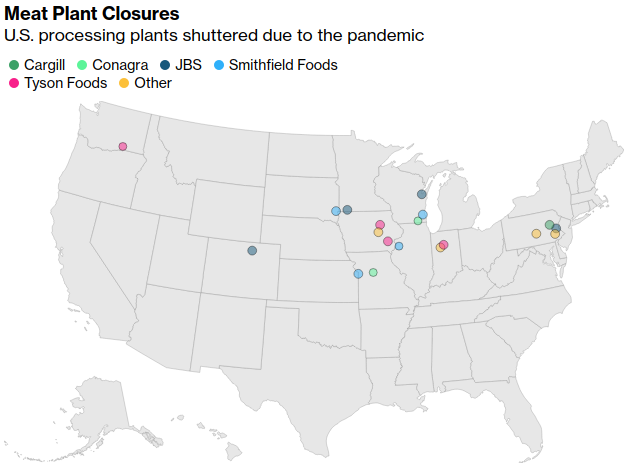 Meat Rationing, Higher Prices, and a Smaller Selection
Unfortunately, the reality of the situation for consumers and wholesale beef prices is that the impact of COVID-19 is going to be felt for a very long time to come. Kobe beef prices are sky-high, Wagyu beef prices have taken a similar upward swing.
Buying Limits means that larger families are struggling to get their usual amount of meat. Stores such as Costco and Kroger Co. limited meat purchases in some of their stores. While others, such as Gristedes, have taken a different route, and are urging customers to stock-up on meats.
Aside from retail stores, the meat shortages are all impacting some of the nation's most-loved food chains; with Wendy's Co., perhaps being one of the most well-known names. Not only has the sector struggled to overcome the fact they've had to close down, but they are now facing increased wholesale beef prices and limited meat supplies for the foreseeable future.
Speaking of wholesale beef prices, on May 5th, the value of choice-graded beef carcasses surged by 63%, hitting a record high of $422.57. Over the past two weeks alone, the price of wholesale ground beef has shot-up by around 40%. It's forecasted that the price of beef at retail will be as much as 20% higher compared to the same point in time last year.
At a time when people need to save the money they have, they are going to be looking at paying out significantly more money on meat than ever before.
Perhaps now is the right time to be looking for meat-free recipes for the family. Kroger have announced they intend to start selling plant-based meat products in 1700 stores nationwide, and although this venture was planned before the pandemic, their timing couldn't be more apt. Beyond Meat Inc. have also reported an increase in sales of their pea protein burgers to major retail giants, such as Sam's Club, Walmart, and BJ's Wholesale.
How Escrow.com Can Help You
Escrow.com reduces the risk of fraud by acting as a trusted third-party that collects, holds, and only disburses funds when both Buyers and Sellers are satisfied.
As we've already witnessed with COVID-19 shortages, such as with PPE, the urgent need to fulfill demand can sometimes open-up opportunities for scammers and leave individuals and organizations at risk entering into fraudulent transactions.
The Benefits of Our Escrow Service
When you choose Escrow.com, you benefit from our heritage as a trusted escrow provider, that over 1.4 million individuals have already used to help them securely and successfully handle their transactions.
For meat brokers who need to transact globally with new parties, this presents the ideal scenario.
Discreet handling and management of your Buyer and Seller
Manage the entire escrow transaction from start to finish
Superb track record giving you assurance your broker fee is secured
Low cost, affordable online payment solution
Reduced risk with robust and highly secure online payments process
Award winning company, trusted by millions worldwide
Aside from these benefits, Escrow.com is also incredibly easy to use, it's highly secure, and it's intuitive. As a trusted and proven company, we've made it quick to start and complete transactions online. Escrow.com is an award-winning company with more than 20 years of history operating as a licensed and regulated escrow service.
For more information, please contact:
| | |
| --- | --- |
| Mauli Fry | Partnership Manager |
| Tel | +1 415 801 2270 ext: 4104 |
| Email | mfry@escrow.com |