Everything You Need to Know About How to Buy a Used Car
For most people, buying a car is a major purchase. While the overall car shopping experience should be pleasurable; it can quickly become stressful, especially if you are buying a car for the first time or you are buying a car online.
In this guide to buying a car, we cover the whole used car buying process. Here, you will find the answers to all your questions about car buying. We also help you avoid scams when buying used cars online.
A Complete Guide of How to Buy a Used Car Online
Even when you know the exact vehicle you want to buy, purchasing a car on the internet can take time. If you have a strict budget or a few key features for a car you want to buy, narrowing down your search might not take long.
Buying a car online can be a quick and easy process, but in terms of knowing the best way to buy a car, you want to make sure you follow the key points in this post. It will help you find the best car, and protect you when shopping online. You will learn the right things to check and the best questions to ask.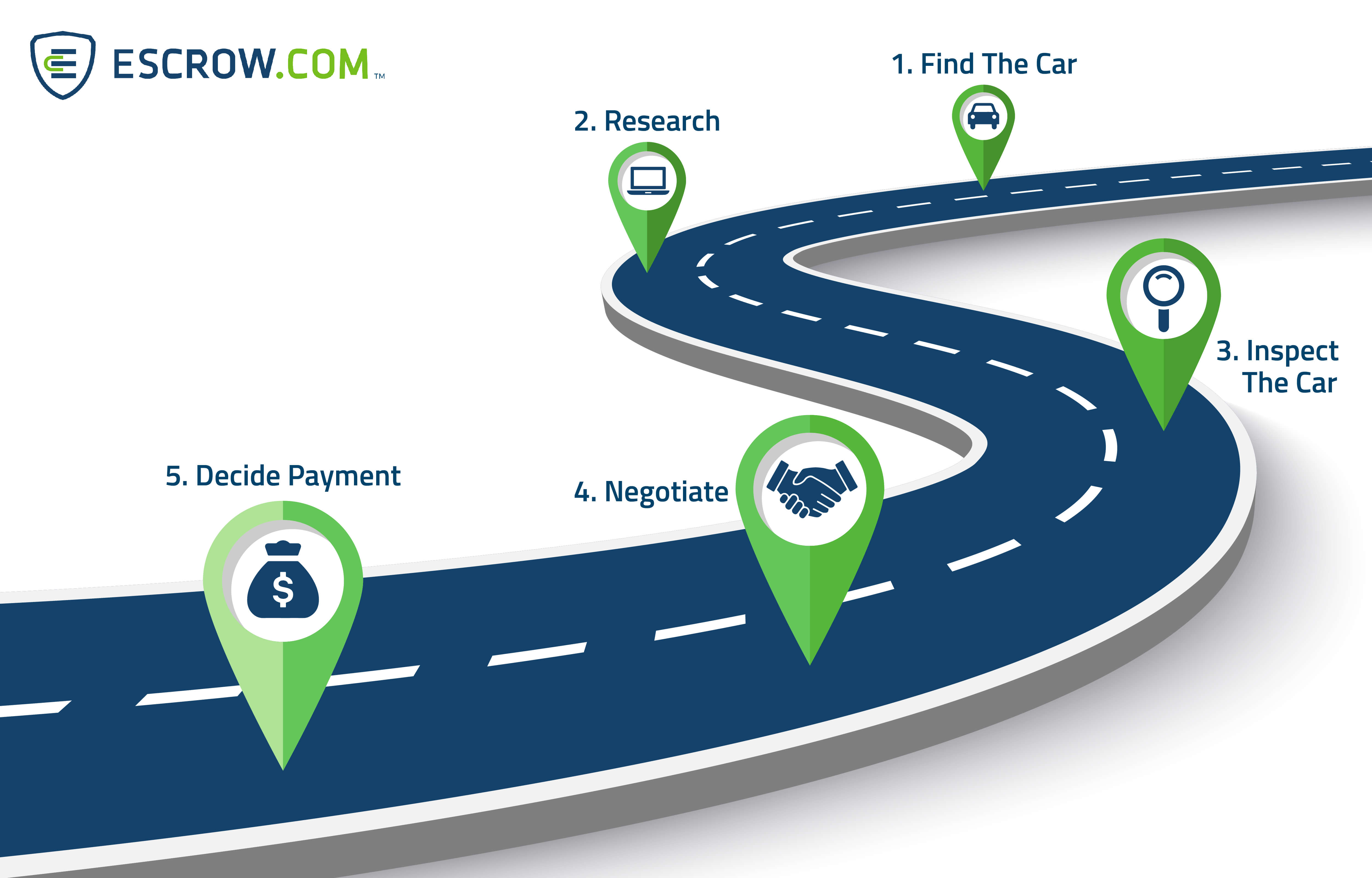 What is the Process of Buying a Used Car Online
Find a car
Do your homework and check market values and the vehicle history
Inspect the car and take it for a test drive
Negotiating the best price and agree on the terms of the sale
Find a trusted secure escrow service to help you manage the payment for the car sale
This is the short version. In the rest of this post, we outline all of the key points you need to check before buying a used car from a private seller.
Things to Consider Before Buying a Car Online
Budget
This is the first thing you will need to consider if you are buying a car online. Knowing how much money you can afford to spend is key. It will help you narrow down the number of cars you can buy. Getting your finances in order before you buy a car is key. Work out a budget and try to stick to it.
Type of Car
If you know the type of car you want to buy, your budget could restrict your options. With so many cars for sale, finding the perfect car can take time.
Here are a few points to consider;
Number of doors – Most vehicles for sale will have four doors; some will have two, and others will have five. Typically, those with two doors can hike the insurance costs up. If you have a family, getting in and out of a 2-door car can be a challenge.
Transmission – Most people tend to prefer to choose an automatic transmission compared to a manual or stick shift as it is often called. Manual transmission cars can save you some money on fuel, so if you don't mind the extra hassle of using three pedals instead of two, and you drive lots of miles; this choice is key.
Other Features – While there aren't many features that will make or break a car sale, there are some luxuries that people will need. Most of the car selling sites include filters to help you narrow your search. Having these added extras can make all the difference.
✔ Air Conditioning
✔ Child Safety Locks
✔ Power Steering
✔ Keyless Entry
✔ Car Seat Materials
✔ Power Mirrors
✔ CD/DVD Player
The most sought after luxury car brands include Bentley, Bugatti, Ferrari, Maserati, and Tesla.
Age of the Vehicle
If you can, try to buy a car that is no more than three years old. Lots of new cars will be purchased under a 3-finance agreement, which means there will be a healthy supply of cars to buy that are around 3-4 years old in the used car market. Most of which are still in good condition. Most manufacturers now sell their cars with a minimum of a 3-year warranty.
Another important factor to take into account is the depreciation value. This refers to the rate in which a vehicle loses its value over time. Buying a car online that is only 3-years old will mean you are less likely to take a hit when you come to sell it on.
In terms of the reliability of a vehicle, most cars will be mechanically reliable until they are at least five years old. Of course, when you get a car that has been well cared for and serviced on a regular basis, this means they will be more reliable for longer.
Service History and Record of Maintenance
However much your car buying budget is, and however old the vehicle you want to buy; you should look to buy a car online with service history and record of maintenance. Not only does this show that the car has been well cared for, it shows that all of the essential wear and tear elements of a vehicle have been regularly maintained. Sometimes, a part service history is good enough, but if you can, try to buy a used car online that comes with a full service history.
Most people prefer to buy Japanese cars because of their reliability and the fact that they require less maintenance than American manufacturers. Toyota and Honda are both two popular choices, especially if you are looking at how to buy a used car online that is well regarded for its reliability.
Know the Market Prices for Used Cars
Thanks to the huge number of used car valuation tools online, it's now quick and easy to find out the true value of a used car before you buy it. This will tell you if a car is being sold at a good price or if the seller has over-valued their vehicle. It could be the case that a particular car for sale has been upgraded or has additional features, and this might warrant the bigger cost. However, you should always know the market value before you go to see a car.
Car Insurance
Unless you have no limits on your budget, you'll need to consider the insurance costs of a car before you seriously looking into whether or not you plan to make an offer. You will need to get your insurance in place before you drive away, and as most of you may know, insurance prices can vary hugely from one vehicle to another.
When you buy insurance for a used car, you can choose from liability coverage, collision coverage, or comprehensive coverage. There is also the cost of the insurance deductible to consider as well. There are also features that can help reduce the cost of your insurance premium include security and alarm systems. Other factors that can affect your insurance cost would be where you live, your age, your driving record, what you intend to use the car for, and of course, the insurance rating of the vehicle you are looking to buy.
One of the key points to consider when asking how to buy a used car online needs to be that you check out the insurance costs before you go to view a car. For some people, the costs of insurance, even when paid monthly can be much greater than expected.
How to Buy a Used Car Online – Inspection time!
Ok, so now that you have taken care of all the pre-inspection questions, you're now ready to visit the car in person. So, what do you need to look for when you go to view a used car?
In this section, we cover some of the key things to watch out for, including all of the key buying a car online tips, so you know what questions to ask when you meet the person and see the car for the first time.

Check the Paperwork Properly
If you find a car you want to buy, then before you start the negotiations, there are a number of administrative duties and check you will want to make before you consider making an offer for a used car.
Inspecting the Car
If you are going to view a used car for sale, then you need to make sure you see the car in broad daylight, because darkness can easily hide scratches and dents on the bodywork of a car.
Make sure you look over each panel individually and also do a check on the internal trims too. While you might not expect everything to be in perfect condition on a used car, being able to spot any flaws might help when it comes to negotiating a final price.
Next, you need to make sure that all of the electrics and switches on the car are in full working order.
Check the headlights
Check the music system
Check the windows
Check the lights and the indicators
Open the hood and the trunk
Check the AC works
Is there a spare tire?
Does it come with a locking wheel nut, a jack, a repair kit or any other tools?
Is there a spare key?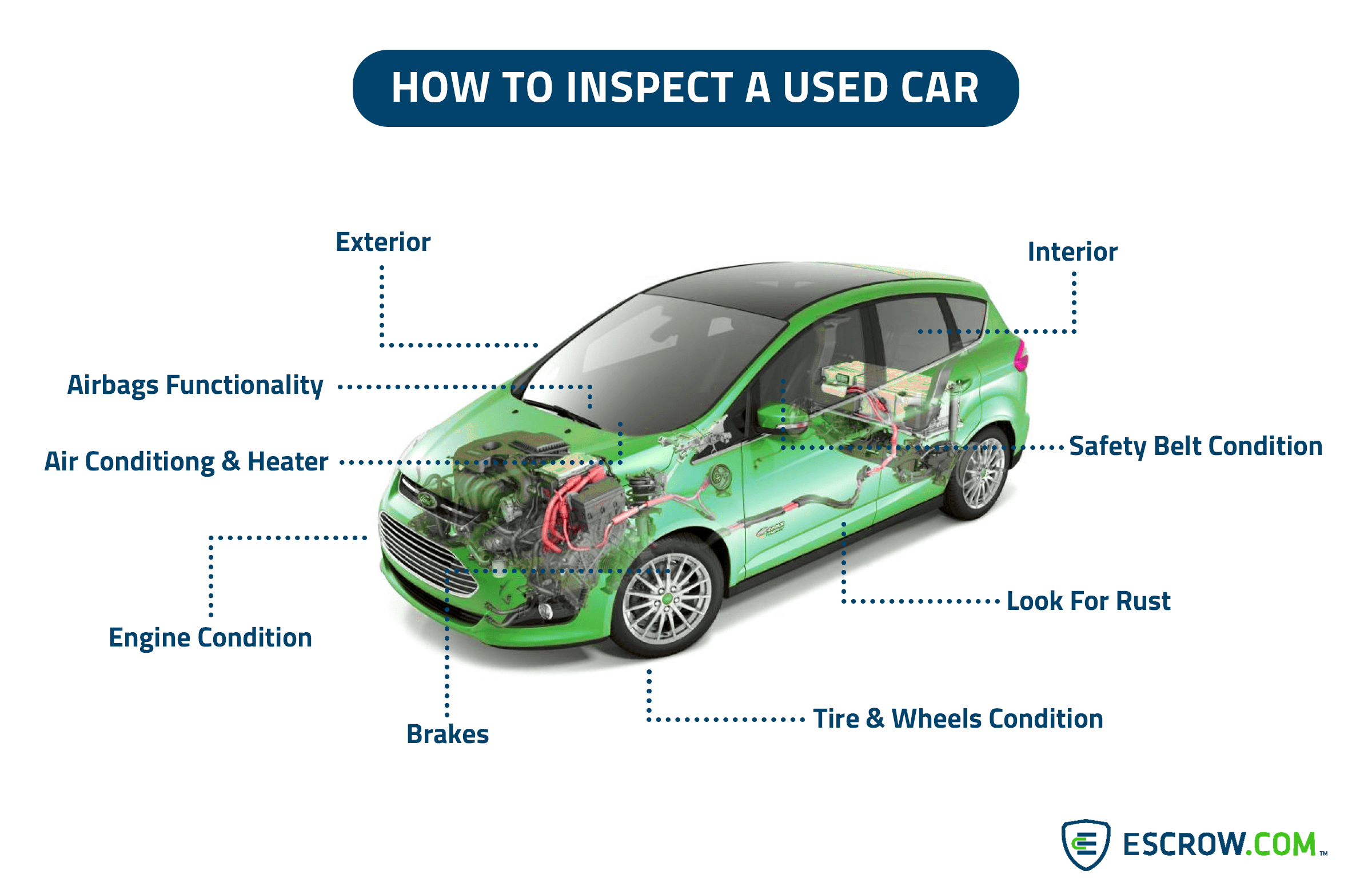 Again, while any of these points might not prevent you from buying a car, it might give you some room for negotiation on the final price.
To save you having to remember all these points, we have put together a checklist for you to save or print and take with you!
Test Drive
Another essential task you need to if you are buying a used car privately is to ensure the car handles and drives well. Pay careful attention when you start the car up, make sure it starts instantly and look out for any smoke from the exhaust too. Can you hear any sounds from the brakes or the engine as you drive? Try to check the steering aligns correctly when you drive, and the wheel isn't pulling on one direction.
How to Buy a Used Car Privately
One of the things that most people worry about when they search for advice on how to buy a used car is the payment and the risk of a car arriving in a condition that was not how it was advertised or sold. Thankfully, there is a trusted escrow service for car sales online you can use that gives both the seller and buyer peace of mind. If you want to buy a used car without seeing it first, this can remove some of the worry out of that process.
Legally, a seller is not obligated to tell you about every detail of a car they are selling privately. However, they do need to answer any questions you ask them truthfully.
What Questions to Ask When Buying a Car Online?
Here is a list of the main things you want to know, and the right questions to ask if you are buying a used car from a private seller.
It is so important to ask the right questions when you go to see a used car. After all, you want to make sure that your dream car doesn't end up becoming a problem after you buy it.
For the list of vehicle inspection questions that we covered in the previous section; you can download the checklist here To give you extra peace of mind, you can also get an auto mechanic to inspect the vehicle before you buy it.
#1 – Can the car be sold?
First, you need to check whether the car can be legally sold or not. Make sure you verify that there is no finance on the used car you are looking to buy. If the outstanding payments for the car finance have not all been fully settled, then legally speaking, the car is not yet theirs to sell.
Something else you want to ensure is that the seller has all the required paperwork in hand. If you want to buy a used car privately, you need to be extra cautious when it comes to documentation. You must ensure you get to see all of the car documents before any money is paid towards the car sale.
#2 – What is the accident and repair record of the car?
You can do an online car history check on the VIN to see a full history of its salvage records, title records, and any accident and repair records. If you want to make an informed choice, you need to use the tools available to check everything you possible can about the history of the vehicle you are looking to buy.
You can help yourself avoid car buying scams by getting a full VIN check report before any money changes hands. If you fall victim to this, then you could get the car seized and taken from your possession without a refund of the money you paid for the car.
#3 – Service History/Warranty
Taking a note of the service history is also key. If someone is selling a car online privately and they state they have a full service history, then make sure you see the paperwork to verify the claims that they have made. If the car was advertised as having a warranty, then you need to check that they have the stamps and evidence to support their statements. The same applies for any other points in the ad, such as mileage, and any repair work they may have had done.
For your own peace of mind, you need to double-check everything you are being told and wherever possible, get visual confirmation of the true facts. After all, you are undertaking a major financial transaction with a stranger, so it's good to make sure you are being given an accurate account of the cars history.
These are the main points you need to think of when you look at how to buy a used car. In this next section, we will offer some tips for buying a car online safely.
Scams to Avoid When Buying a Car Online
You don't have to go too far to hear about used car sales fraud or scams; there are plenty of them around. However, you can use these guidelines to help you avoid some of the most common scams, and improve your protection when buying a used car online.
Nowadays, most people will buy a used car online. Getting a good deal and landing the car of your dreams for a fair price feels great. However, as with most things in life, there are certain risks, and there are individuals who make a living by trying to scam people out of their hard-earned cash.
The Better Business Bureau (BBB) is a non-profit organization which is dedicated to improving online marketplace trust. They have published its own guidelines for how to avoid scams online.
# Use Reputable Websites for Car Shopping
There are plenty of options for places to buy cars online. While there are many positive transactions that take place across sites like Craigslist and eBay, there are also negative stories about people who misuse online marketplaces to scam people who are trying to buy used cars. Be careful where you shop and try to use sites that require sellers to pay for listing their products.
If you want to know the best way of how to buy a used car online, choose a site with a rating system. This will allow you to see feedback and comments from verified buyers who have used the services before.
# Pictures Are Not Always Accurate
Most of you reading this post will be familiar with smartphone cameras, along with a range of editing tools that are free and easy to use. You need to be careful when buying a car online because the images might not represent the true state of the vehicle.
If you are going to be buying a car online without seeing it, then you need to use a trusted car sales escrow service to hold the money until you have had the chance to inspect it in person. Car shopping isn't always a local transaction, and lots of people ask about how to buy a car online in another state; escrow payments can give both the seller and buyer the security and assurance needed to sell and buy cars from different states easily.
# Do Not Be Pressured into Sending Money Online
Of all the car buying scams, this has to be one of the most common. It's simple, yet so many people get tricked into sending money online. Most scammers will try to demand some form of a deposit to hold the car before you go to visit it in person. It is never OK to ask for cash upfront in this way.
Regardless of their reason for asking, just don't do it, ever.
# Personal Information
We all know that our personal information is sacred. Your home address, date of birth, banking details, credit card numbers, employment information, and social security numbers are all private, and unless you are applying for finance, should not be given out. Regardless of how trustworthy a person might seem, there is no reason why they would need any of this information.
# Do Not Be Pressured
If a seller tries to pressure you in any way, or they try to rush you into making a decision, this could be the work of a scammer who is simply trying to put pressure on you. Pressure is known to make people behave irrationally, and this is why it often works.
# Aim to Buy Local
While there are lots of successfully used car sales out of state, if you can, it is always easier to buy local. This way, you have a face and a name that you can easily reach should anything go wrong. Of course, if you are buying a used car online and you have a unique need, such as with a collector's car, then this might not always be possible.
If you are buying a car out of state and won't get the chance to view it in person, you can use secure escrow services that give you peace and mind and protect you from any issues that could happen when the car is being shipped. This type of secure used car payment service is ideal for cars which are bought out of your own state.
# Only Use a Secure Payment Service for Buying a Used Car
If you are going to be paying for a used car, you need a payment option that gives you the most security. Never send money via wire transfer or pay with cash, and do not use a prepaid credit card or any other form of non-traceable payment.
There are a number of secure payment services for used car sales that are ideal in this situation. In cases where a large amount of money is being transferred as payment for a product or service, these types of services are perfect. They provide both seller and buyer protection and give you an easy way to fix the terms of the sale quickly and easily on their platform. Escrow.com is a completely online service that does not require any legal or banking inputs; as such, it is quick and easy, and it makes the process of paying for the car you are buying from a private seller easy and secure.
What is the Best Way to Pay for a Used Car?
There are lots of ways people pay for cars that they buy online or which they buy privately. Because of online scams for used car sales, along with the large amounts of money that are involved in car sales transactions; having a secure way to send and receive money for a private car sale is key.
A major advantages of selling a car privately is not having to pay any middle-man fees to the dealer, there is also the risk of not having a company to return to if something goes wrong.
So many people still ask if it is still OK to pay cash for a car; of course, most sellers will prefer this method, but is it the best way for you to buy a used car?
Let's talk through the options.
PayPal for Used Car Sales Payment Services
Although PayPal is a trusted and accepted online payments service, it isn't the best option if you are buying a car online. Especially if you haven't been able to see or inspect the car in person. Although it does offer payment protection for fraud, it will not cover the buyer if the car does not arrive as described for automotive purposes.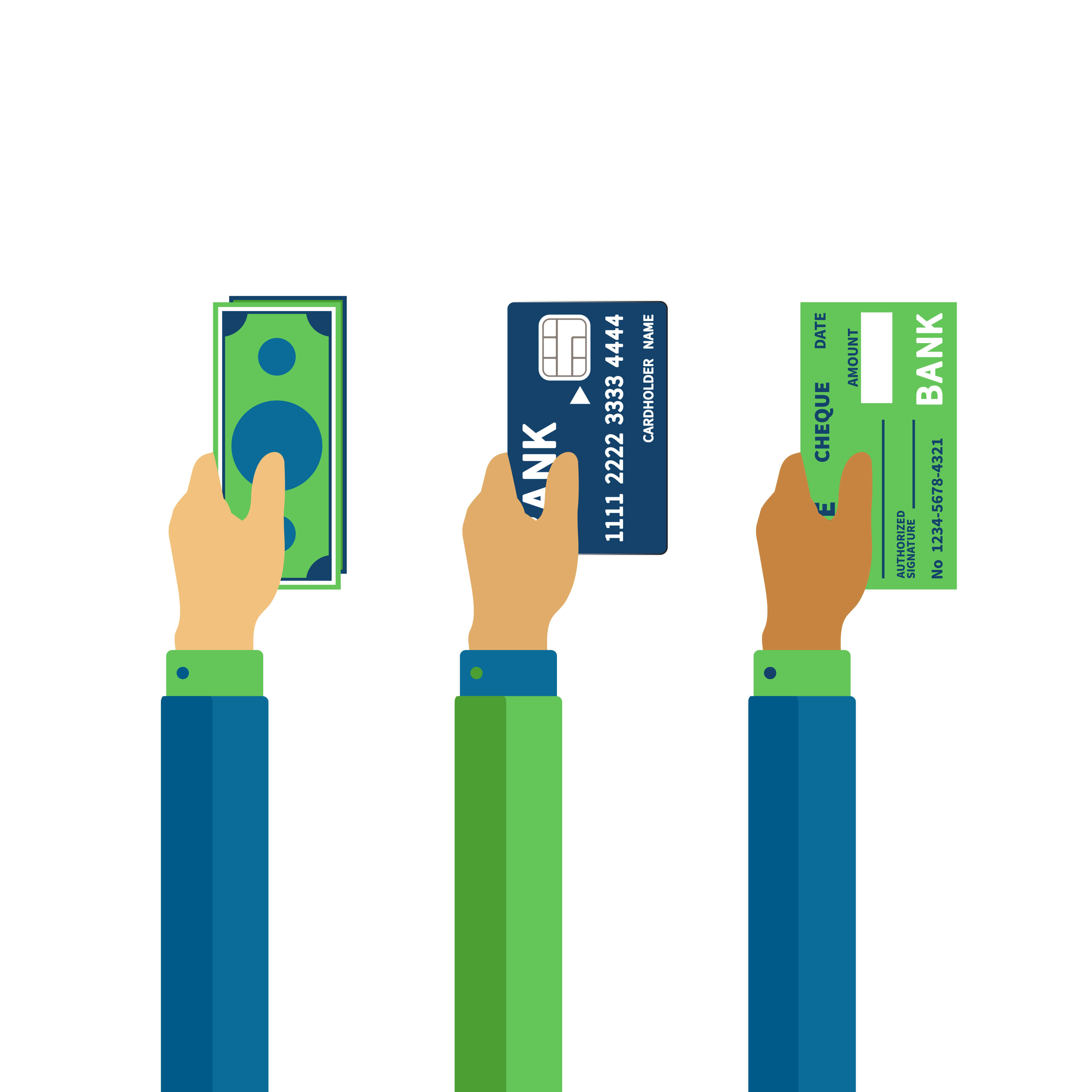 Paying with Cash for a Private Car Sale
Carrying large sums of money around on your person is both uncomfortable and risky. Let's not forget that you are also doing a major transaction with a complete stranger. How can you prove that the cash was handed over? A written receipt will not carry much weight if there is some issue at a later stage, or if the person who is selling the car was not actually allowed to do so.
Using a Cashier's or Personal Check to Pay for a Car
For personal checks, this doesn't mean that the individual who is writing the check has the money available to pay for it; so there are very few car sellers who want to take the risk. While most people believe a cashier's check is ok to use as a way to pay for a used car, they are easily faked; again, presenting an obvious problem for the seller. Although you could make an appointment at the bank where both the buyer and the seller attend together, this isn't always practical, and for out of state car sales it just won't work.
Using an Online Escrow Service to Pay for a Used Car
A bonded escrow service can reduce fraud for car sales transactions. You can set the exact terms of the sale, the inspection period, and even include a clause that allows you to get a full vehicle inspection carried out before you accept the vehicle. If it doesn't pass this inspection, there is the option to return the car, and the escrow service will return the money to you in full.
With Escrow.com, there is also a wide range of benefits that are customized to the used car buying process that can give both you as the buyer, and the seller of the vehicle additional peace of mind.
Escrow.com also provides several additional motor vehicle services to give you peace of mind. Lien Holder Payoff services guarantee there is no outstanding debt on the car, giving you confidence when you buy. If the car is already clear of debt, our Title Collection Service means you get all the correct legal documents issued, taking the hassle out of the legal ownership transfer process.
In Summary
If something feels too good to be true, then it usually is. If someone is making you feel pressured or asking for information that isn't needed for a used car sale, then walk away. If someone is trying to get money from you online for buying a car, then take this as a warning sign and do not agree to give them any cash.
If you would like to learn about how easy it is to use Escrow.com for buying a car, take a look at this quick step-by-step guide about how to buy a used car online securely.