Escrow.com is Officially Live for all U.S. eBay Watches Users
eBay has made buying and selling luxury watches more convenient by incorporating the Escrow.com service to hold funds securely until transactions are completed satisfactorily.
SAN FRANCISCO, April 27, 2021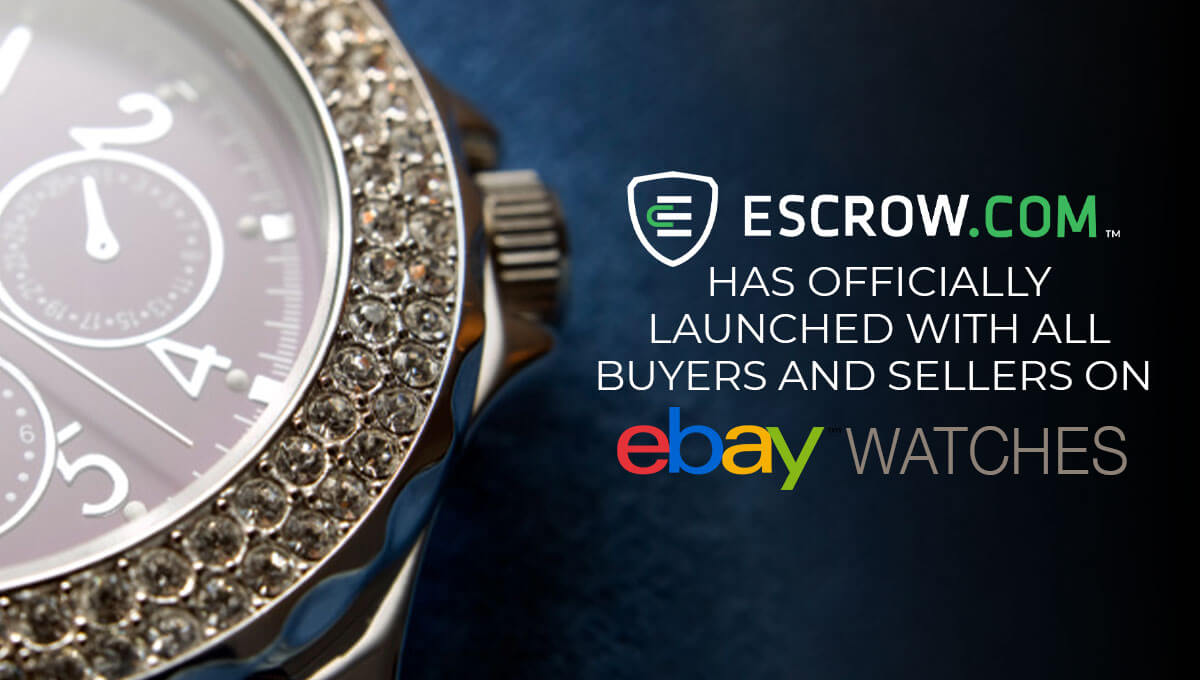 Today, Escrow.com launched its service to all eBay users who are buying or selling luxury watches valued at $10,000 USD or more. Now, anyone looking to buy or sell such high-end watches on eBay Watches can shop and sell with added convenience of having funds held in escrow until the buyer receives and accepts the watch.
This formidable partnership expands the payment options available to luxury watch enthusiasts for a smooth and streamlined experience, by improving the buying and selling experience.
Jackson Elsegood, General Manager of Escrow.com, says, "Buying a luxury watch is an exciting, once in a lifetime experience. Which is why Escrow.com has partnered with eBay Watches to offer online buyers the ultimate added assurance: getting to hold the watch in your own hands, knowing it is authentic, before your funds are released."
eBay Watches is a long-time leader in the luxury watch space and offers a wide selection, including top brands, rare pieces, and more. On average, the site features more than 150,000 live listings every day. In 2019, over 2 million watches were sold through eBay Watches, and 8 million were sold between 2017 and 2019.
The most expensive timepiece to sell on eBay Watches was a Patek Philippe Grand Complications Watch that went for $535,499.99, followed by a Richard Mille RM11 Flyback Chronograph Rose Gold Titanium Watch that sold for $148,000.
When buying and selling luxury online, ensuring the goods are authentic and as described in the listing is important, and that the terms of the transaction agreement are met to the satisfaction of both parties.
Escrow.com's multi-step enhancement offers the eBay community of watch enthusiasts another way to securely transact on watches worth $10,000 or more, with no processing fees. Not only is the process simple, both parties are protected throughout the entire transaction.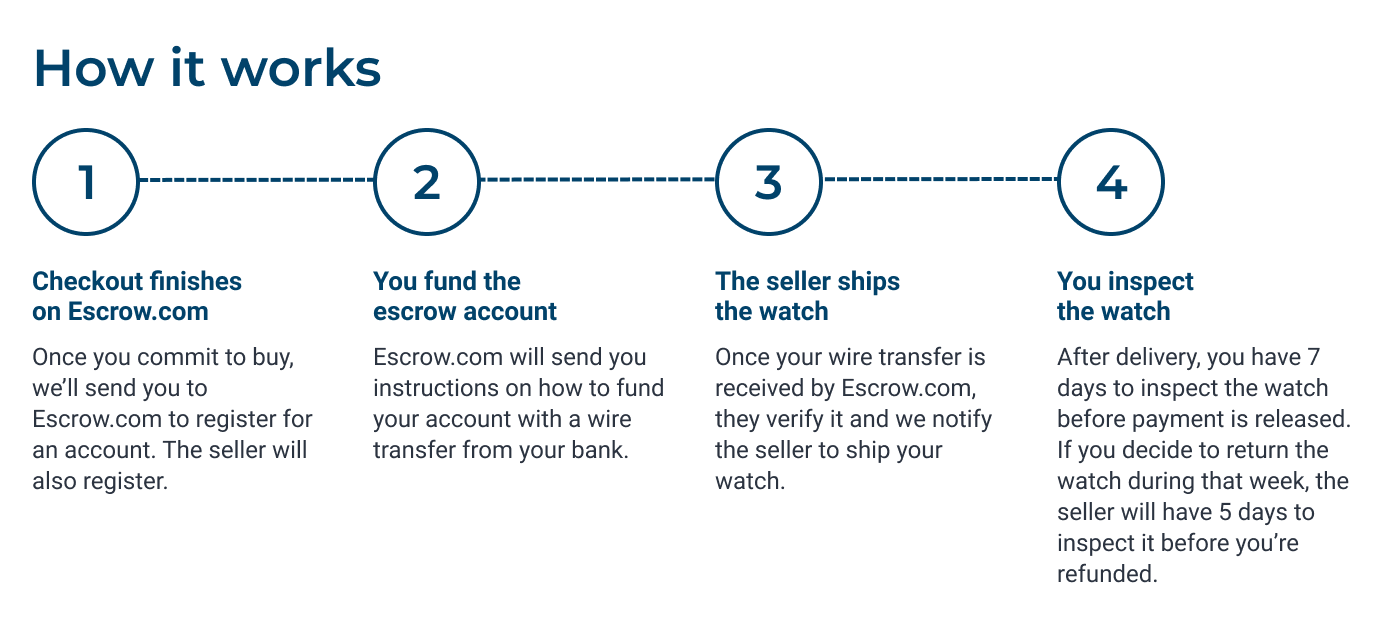 To make things even easier for both buyer and seller, we recommend using eBay's Authentication Guarantee program for watches over $2,000. Their complimentary service includes:
Professional authentication by a team of independent experts;
Secure signature delivery; and
No cost to you, eBay covers all costs of the authentication process.
They also cover any fees charged by Escrow.com for use of their service when purchasing eligible watches.
Our partnership brings you a seamless transaction experience by reliably managing your Rolex, TAG Heuer, OMEGA, or any other luxury watch transaction from start to finish.
About Escrow.com
Winner of the 2017 BBB Torch Award for Ethics for Silicon Valley, San Francisco and the Bay Area, Escrow.com is the leading provider of secure online payments and online transaction management for consumers and businesses on the Internet, having safely processed over US$5 billion in transactions. Founded by Fidelity in 1999, Escrow.com reduces the risk of fraud by acting as a trusted third party that collects, holds and disburses funds according to Buyer and Seller instructions.
Escrow.com is a subsidiary of twelve-time Webby Award winning Freelancer.com, the world's largest freelancing and crowdsourcing marketplace by number of users and jobs posted. Freelancer Limited is listed on the Australian Securities Exchange under the ticker ASX:FLN.
About eBay
eBay Inc (NASDAQ: EBAY) is a global commerce leader including the Marketplace and Classifieds platforms. Collectively, we connect millions of Buyers and Sellers around the world, empowering people and creating opportunity for all. Founded in 1995 in San Jose, California, eBay is one of the world's largest and most vibrant marketplaces for discovering great value and unique selection. For more information about the company and its global portfolio of online brands, visit http://www.ebayinc.com.