Escrow.com goes live with eBay as exclusive payments provider for high value watches
Escrow.com is securing the new Authenticity Guarantee from eBay Watches- available for customers immediately.
SYDNEY, 20 October 2020
On the 9th September 2020 it was announced by eBay that Escrow.com was the exclusive payments provider for a new and enhanced experience for securely transacting luxury watches, that this service went live on Monday October 19th 2020 PDT. This article is providing the update included in the Freelancer.com ASX Announcement.
The eBay Watches partnership follows the announcement in June 2020 of eBay Motors in the United States selecting Escrow.com as the only online payment method capable of settling the final purchase price of a vehicle.
The official media launch will be conducted in the coming weeks. Today both Escrow.com and the Authenticity Guarantee went live into production for eBay Watches customers in anticipation of the holiday buying season.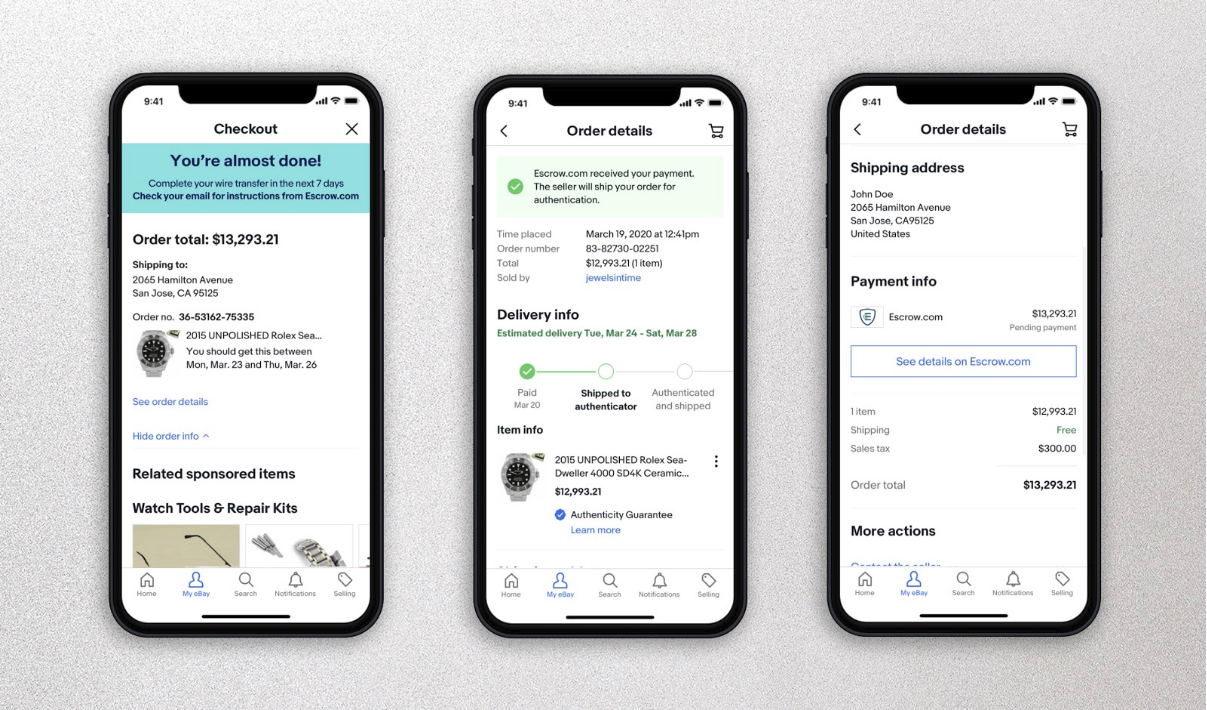 The offering is described as follows:
Last year, eBay sold over 2 million watches from brands including Rolex, Panerai, IWC, and Omega just to name a few. That's a watch sold every five seconds.
Now buying a watch over the internet without ever holding it in your hand requires a serious level of trust.
That's why eBay has selected Escrow.com, the most secure payment system from a counterparty risk perspective, to protect its new Authenticity Guarantee service.
The new Authenticity Guarantee service introduces industry experts, whose services and capabilities have been thoroughly vetted by eBay. From now on, when a watch, $2,000 or over, is purchased on eBay, it is sent directly from the seller to eBay's authentication facility. When the package arrives, the watch is given a unique barcode and all the information is entered into a tracking system. Then an expert authenticator performs a visual inspection of the watch before removing the bracelet and capturing the serial number. Next, they perform a multi-point inspection, examining the case, dial, lume, bezel, hands, crown, end links, and strap, verifying that each component inspected is authentic and matches the eBay listing.
After a watch is authenticated. It comes with a certificate of authenticity and a beautiful box to store it in. If your watch comes with the original packaging and papers, you will receive those instead.
For watches sold for $10,000 or more on eBay, your funds are held securely by Escrow.com until the authenticated watch arrives in your hands to personally inspect. Once you are happy, you click a button, and Escrow.com releases the funds to the seller.
The best part is that eBay covers the entire cost associated with the authentication and escrow services.
eBay's mission is to make sure that nobody ever buys a fake watch.
When you are buying a watch on eBay, look for Escrow.com and the authenticity guarantee badge. It's a blue checkmark that you will find on watches, $2,000 or higher.
Escrow.com - securing the new Authenticity Guarantee with eBay Watches.
Additional notes on the Authenticity Guarantee:
The Authenticity Guarantee went live into production today for eBay customers
For the first two weeks the offering will "soft launch" and ramp progressively to all listings after this time
Currently, watches listed in the primary category of wristwatches and sold for $2,000.00 USD or more are eligible for the Authenticity Guarantee service. In addition, Auction items in the wristwatch category that are expected to sell above $2,000.00 USD are also included in the service.
Escrow.com will facilitate all payments for watches by US Sellers sold domestically for $10,000 or more on eBay. This includes watches which do not qualify for the Authenticity Guarantee.
eBay is covering all costs associated with the Authenticity Guarantee and the Escrow.com service and so there is no cost to either the buyer or the seller.
The offering is available for sellers in the United States, shipping domestically.
Forecast sales data for eBay for watches is commercial in confidence to eBay. This offering will be changing consumer behaviour and will be coupled with an education campaign. As such, Freelancer is unable to provide eBay's confidential sales data nor forecast the revenue impact but will keep the market informed as it is able to.
eBay Luxury Watches By the Numbers
eBay sold over 2 million watches in 2019 with nearly 8 million watches sold over the past three years.
54% of eBay's watches vertical is pre-owned inventory, and there has been over a 60% increase for pre-owned in eBay's watch category from 2019 - August 2020.
There are over 165,000 daily live listings on average for luxury watches, and since 2019, there has been a 10% increase in average daily live listings for luxury watches
Rolex accounts for 40% of luxury watch sales on eBay, and since 2019, Rolex sales have increased 60% on eBay's marketplace.
Source: Sales data on eBay.com.
About Escrow.com
Winner of the BBB Torch Award for Ethics for Silicon Valley, San Francisco and the Bay Area, Escrow.com is the leading provider of secure online payments and online transaction management for consumers and businesses on the Internet, having safely processed over US$4.5 billion in transactions. Founded by Fidelity in 1999, Escrow.com reduces the risk of fraud by acting as a trusted third party that collects, holds and disburses funds according to buyer and seller instructions.
Escrow.com is a subsidiary of twelve-time Webby Award winning Freelancer.com, the world's largest freelancing and crowdsourcing marketplace by number of users and jobs posted. Freelancer Limited is listed on the Australian Securities Exchange under the ticker ASX:FLN.
About eBay
eBay Inc (NASDAQ: EBAY) is a global commerce leader including the Marketplace and Classifieds platforms. Collectively, we connect millions of Buyers and Sellers around the world, empowering people and creating opportunity for all. Founded in 1995 in San Jose, California, eBay is one of the world's largest and most vibrant marketplaces for discovering great value and unique selection. For more information about the company and its global portfolio of online brands, visit http://www.ebayinc.com.
For more information, please contact: